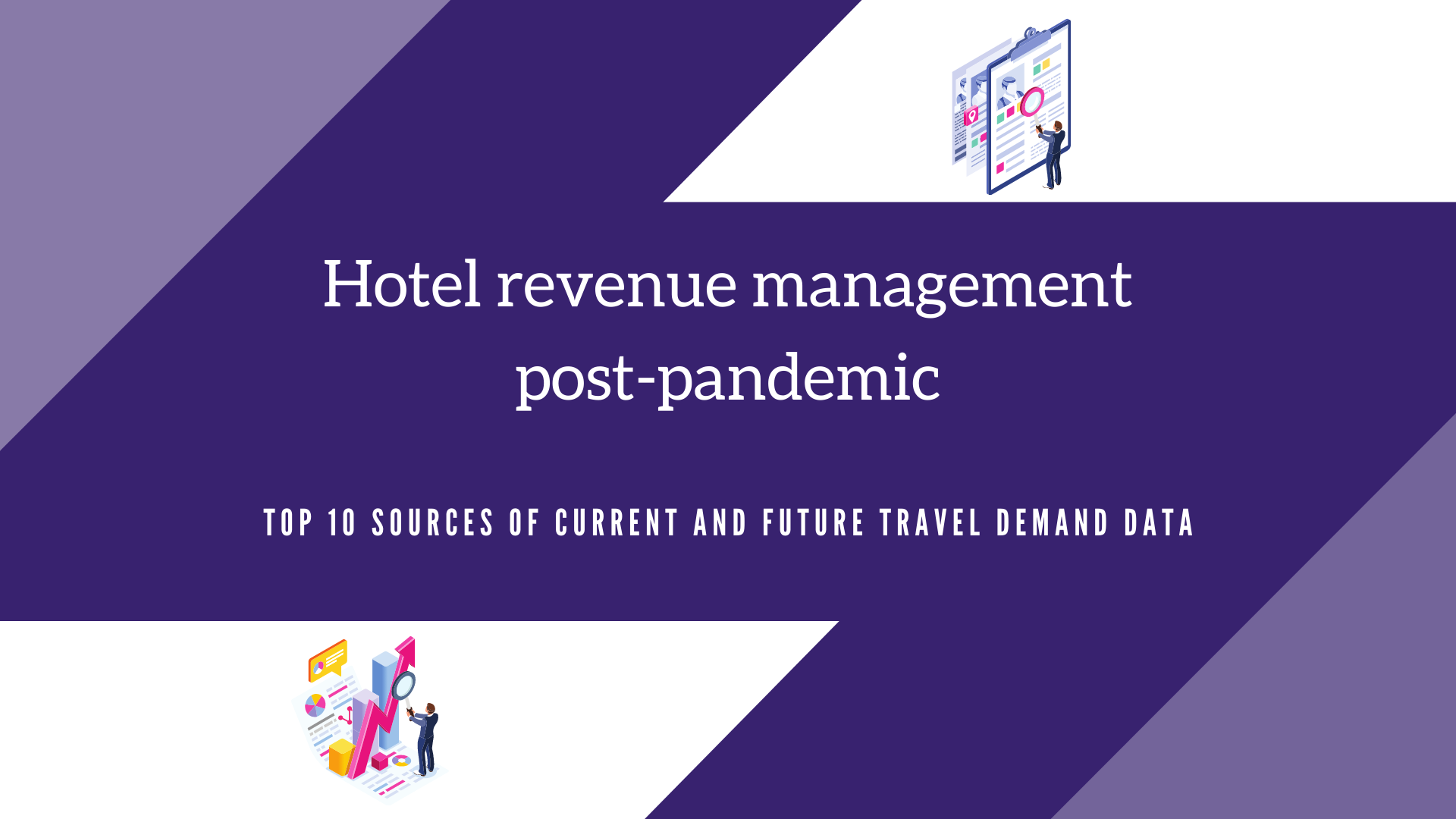 Hotel revenue management post-pandemic: Top 10 sources of current and future travel demand data
This article looks at different data sources and tech solutions (free & paid) available for revenue managers to assess short-term demand trends, travel intent, and future demand for the markets.
Revenue managers rely on data to create and adjust pricing strategy for the hotel. An effective strategy requires high-quality data about the hotel, market, and competitive set. To predict future demand, revenue managers relied heavily on historical data, which became mostly irrelevant due to the COVID19 pandemic. Market demand changed. Booking patterns changed. Competitors' pricing does not reflect actual market demand because all hotels face the same forecasting and data challenges.
What can revenue managers do in such circumstances? The answer is to look at current trends and future market data. Short-term demand trends and travel intent are critical data points for assessing market demand and creating pricing and marketing strategies.
Let's look at different data sources and tech solutions (free & paid) available for revenue managers to assess short-term demand trends, travel intent, and future demand for the markets.
Free service from Google shows a big picture of travel demand. It's an excellent place to start when researching short-term demand trends for the country.
For example, I wanted to see air and accommodation worldwide demand data for the USA in December 2020. Results showed a 40% drop in demand compared to the previous year. The top markets were Miami and New York. Honolulu and Fort Meyers experienced the highest growth in demand. Domestic travel was the primary demand driver.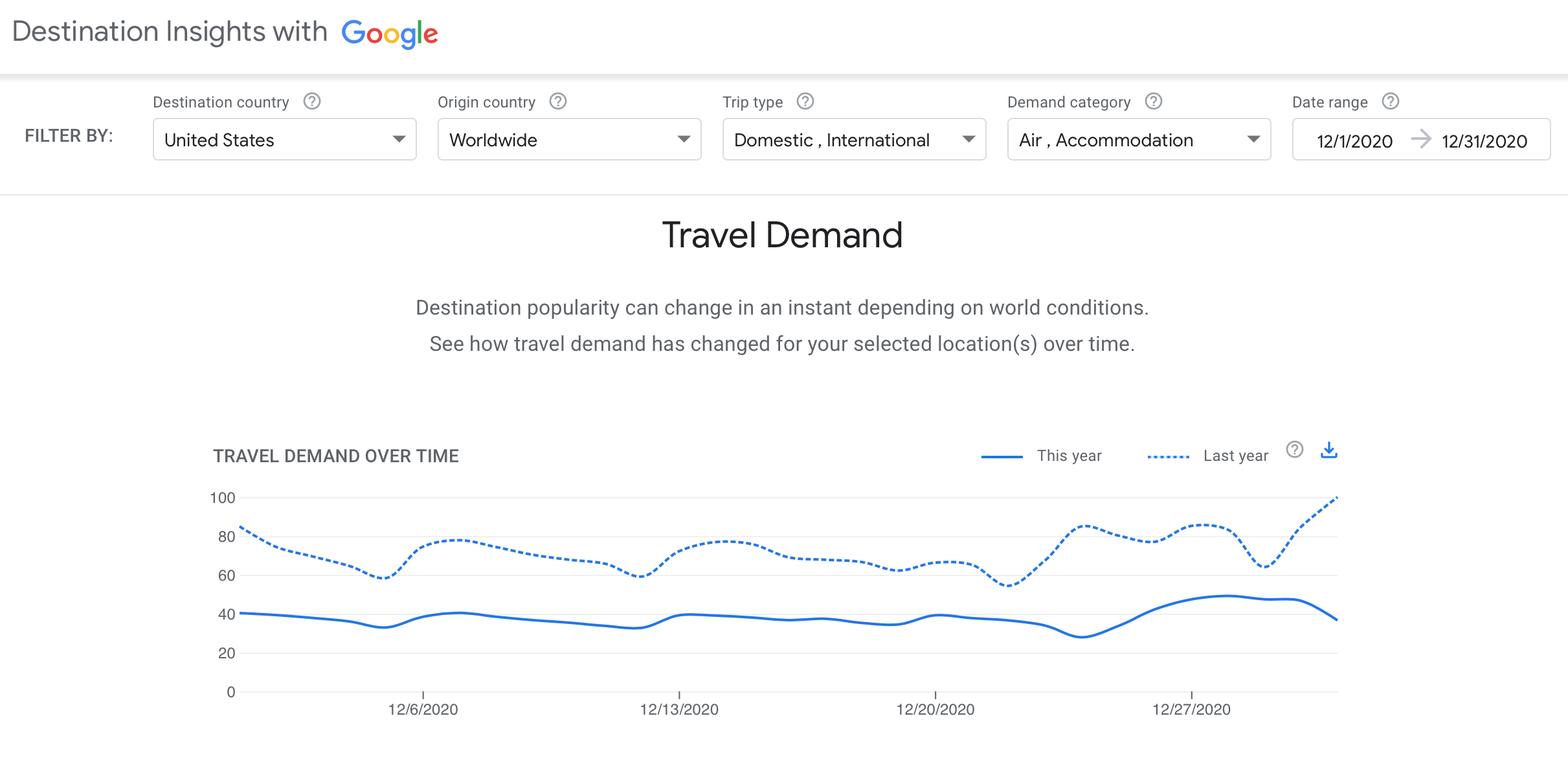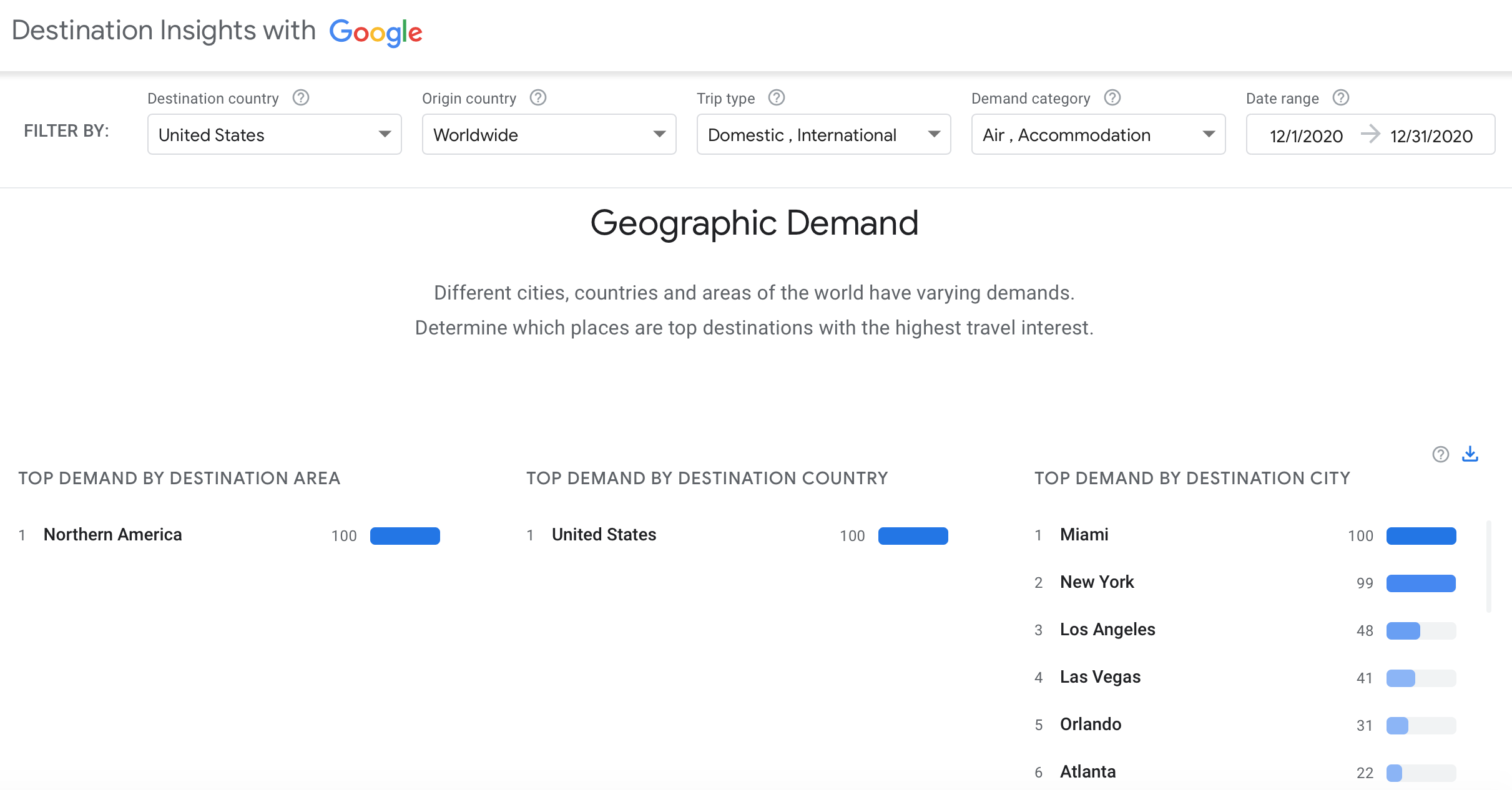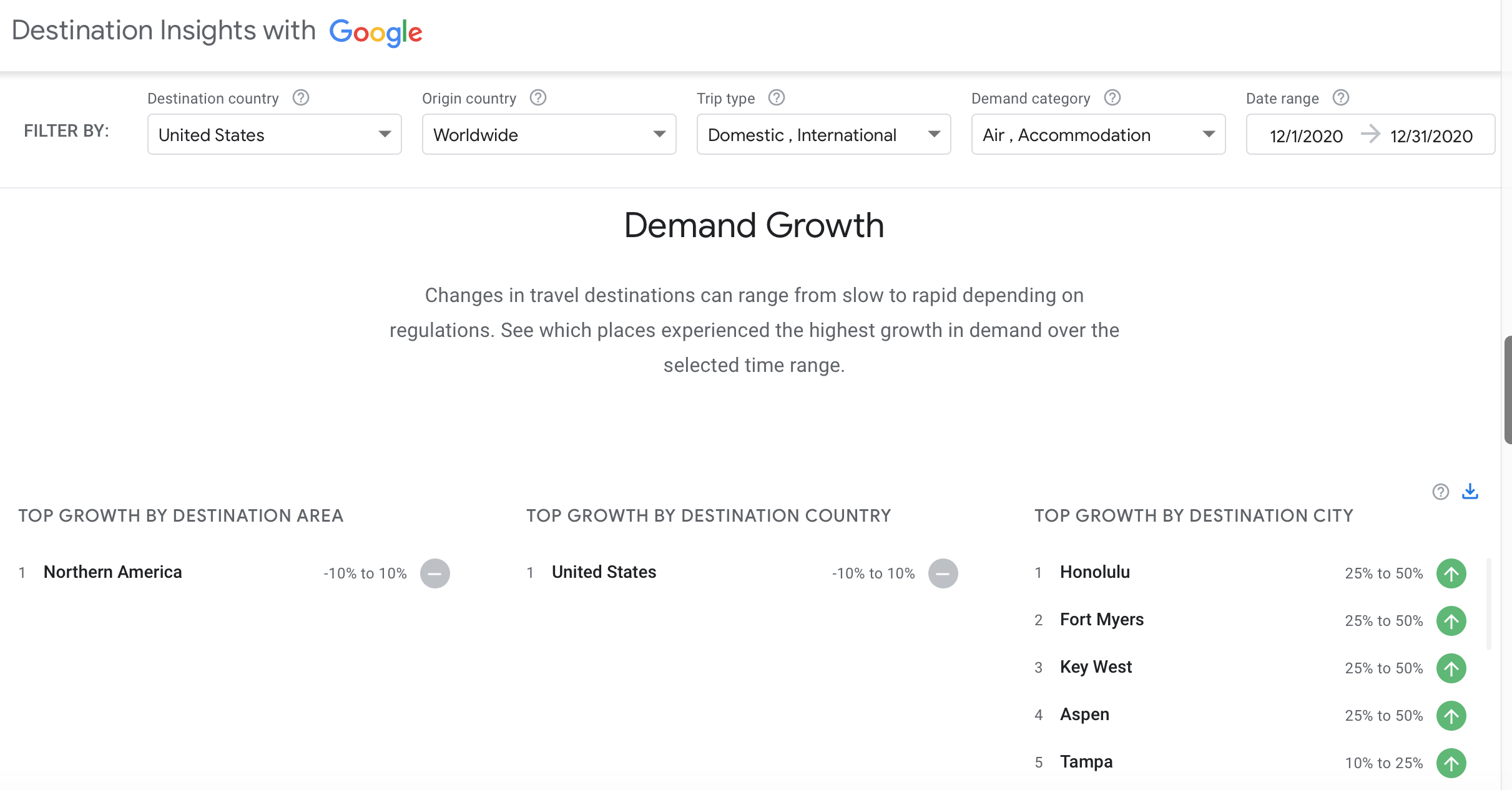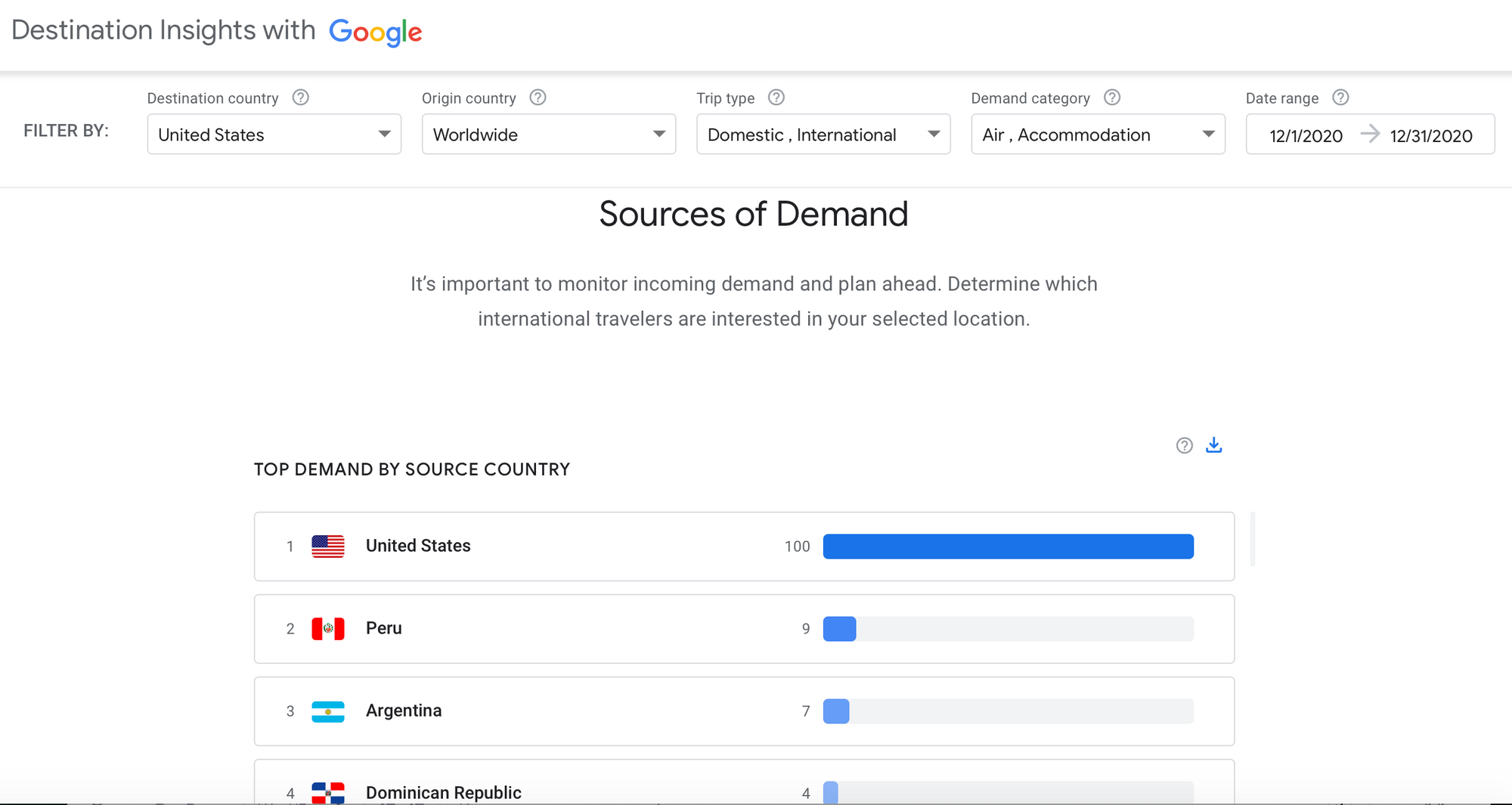 Free service from Google that shows valuable insights about recent searches for hotels in a specific area.
For example, I selected the USA and California. The last 12 weeks' search trends showed interest in hotel stays in California dropped between -25% and -50% compared to the previous year. Also, demand comes from domestic searches vs. international. Furthermore, we can explore inbound markets. The USA is a top market, and California is the top submarket.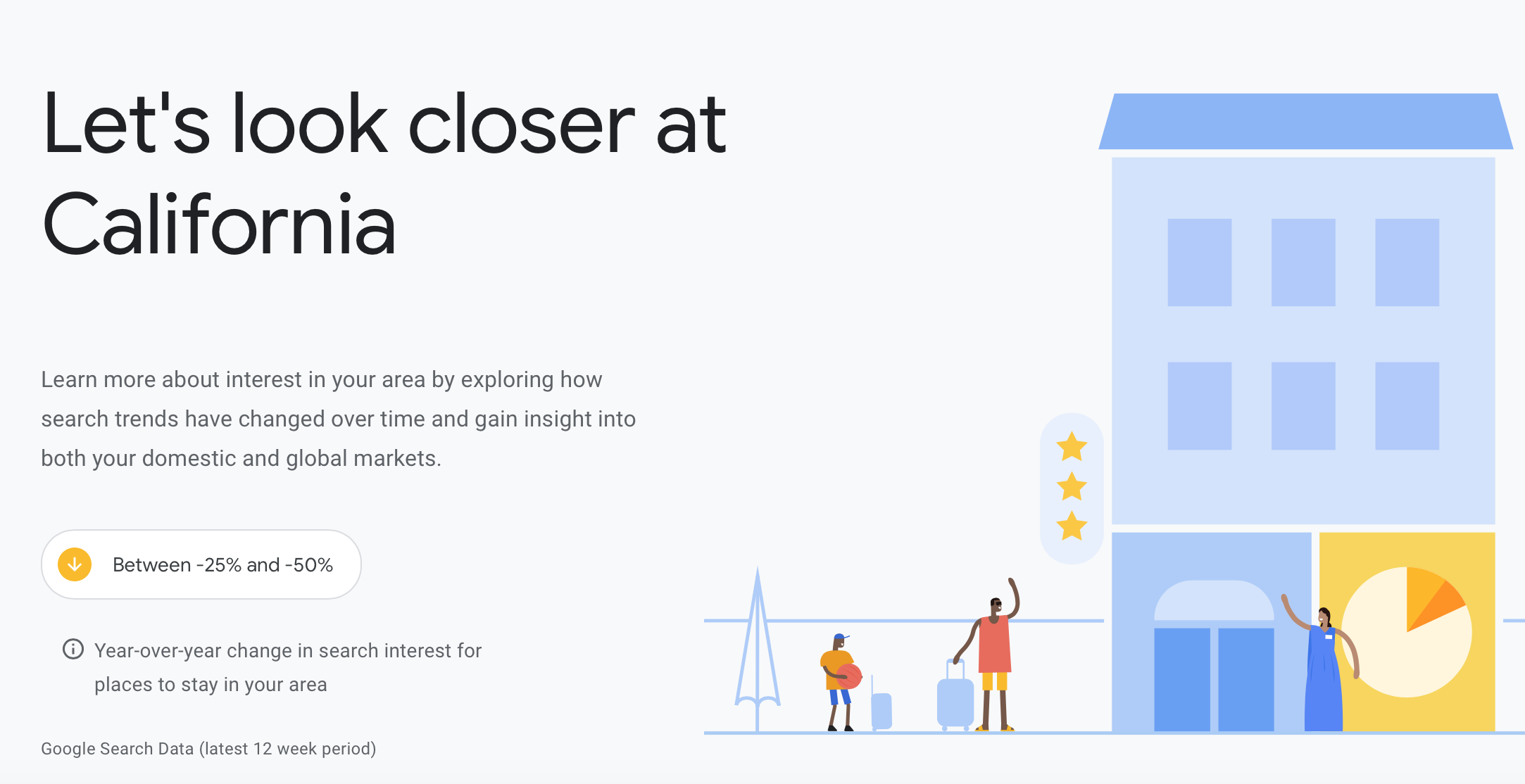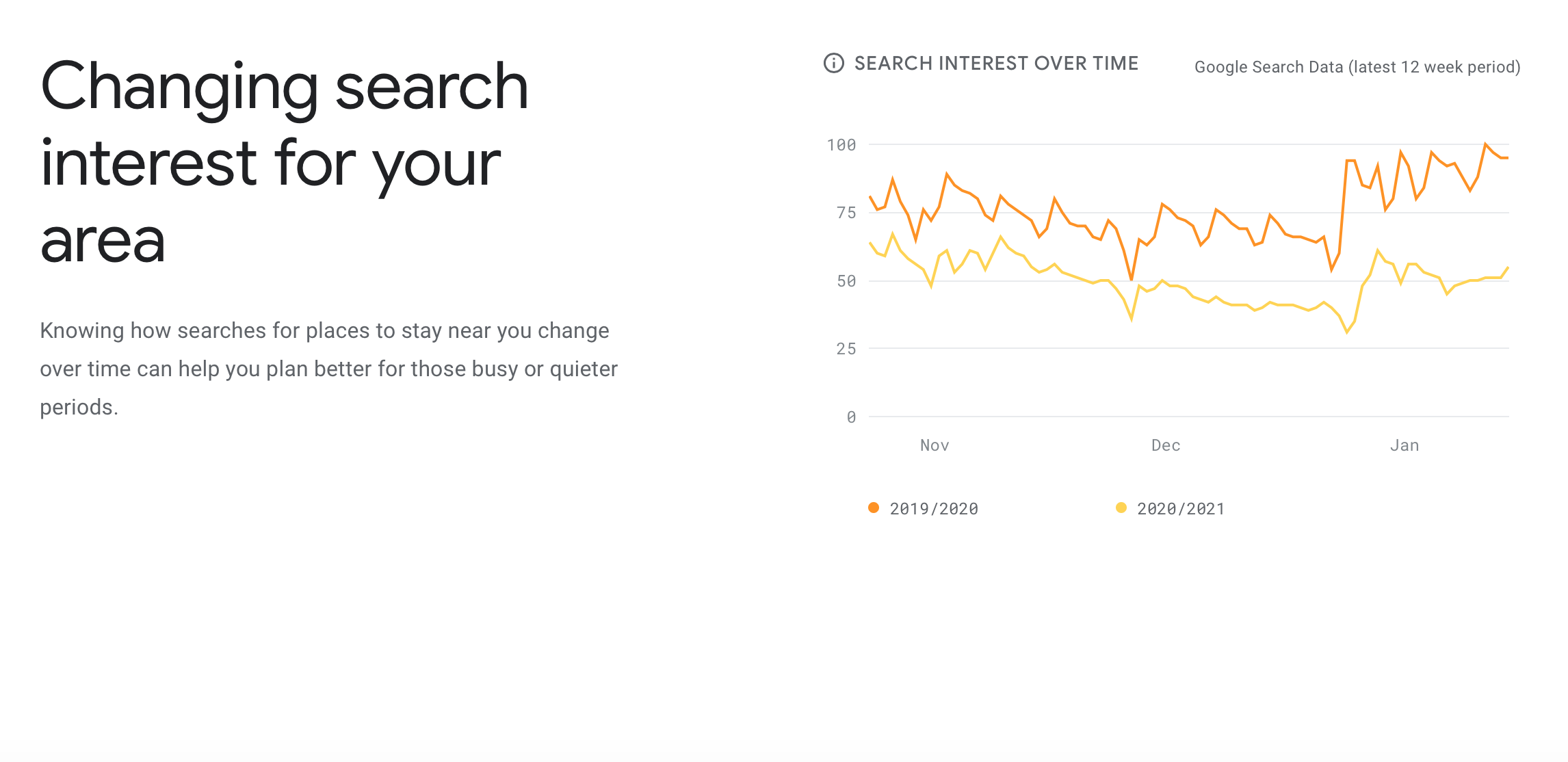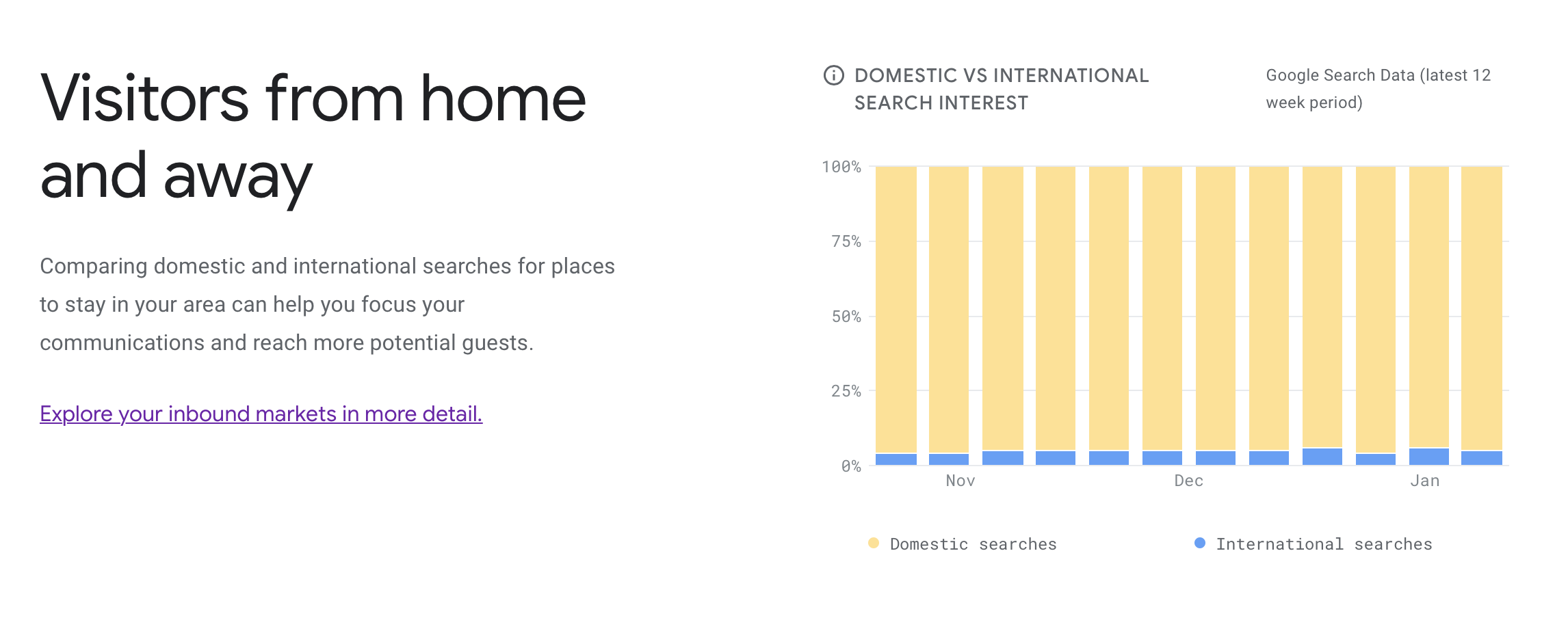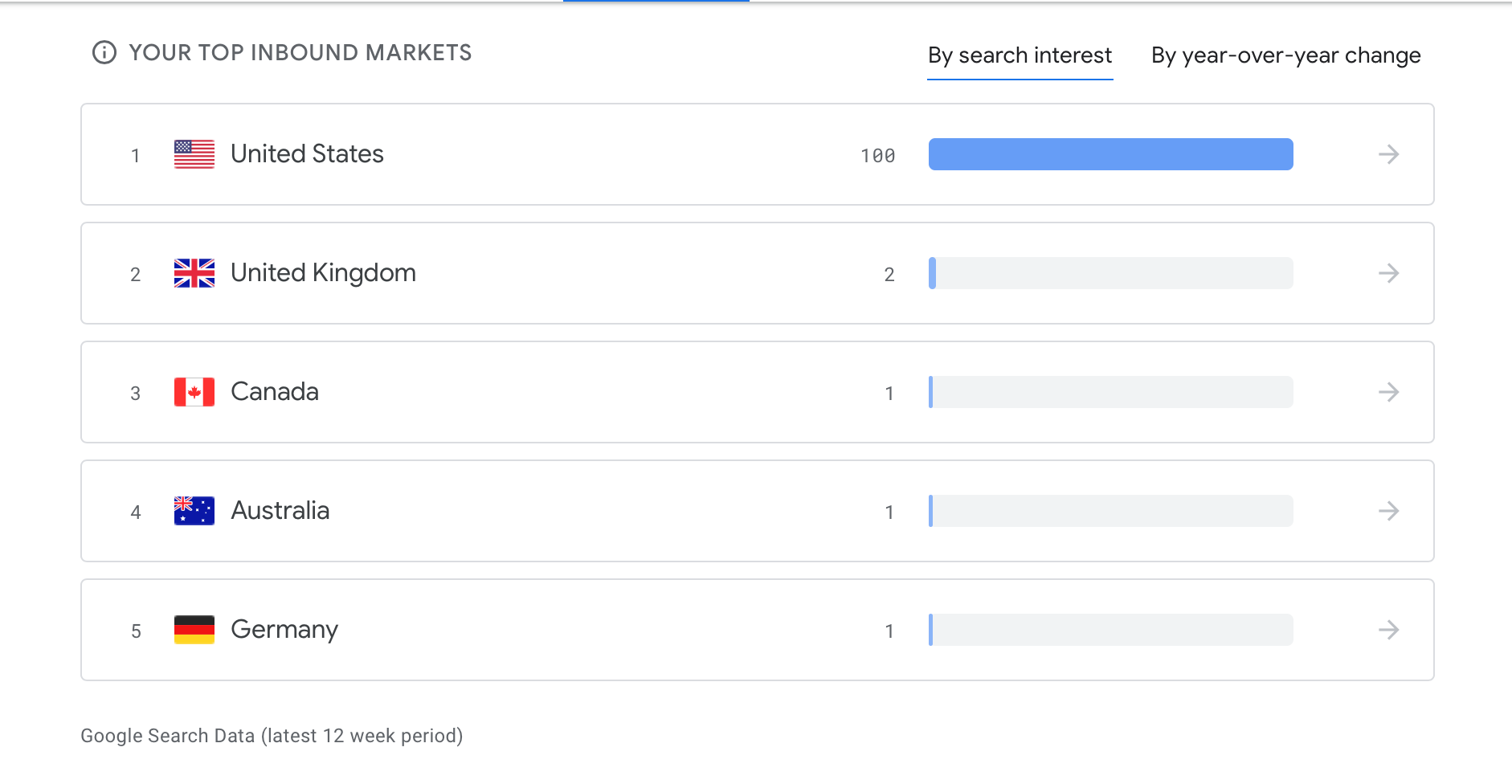 We see that California hotels have a drop in demand compared to last year, and local travelers are the primary source of demand right now.
Service allows hotels to see the current hotel demand and its sources for the specific hotel and city and compare it with other markets and hotels.
For example, I chose the last seven days' data for hotel searches in Palm Springs and Scottsdale. We see that both cities had the same demand patterns, and Scottsdale had higher demand. We can also see search source results by subregion, metro area, and city for both cities together and separately. Local Arizona and California travelers are the top sources of demand for both states, respectively.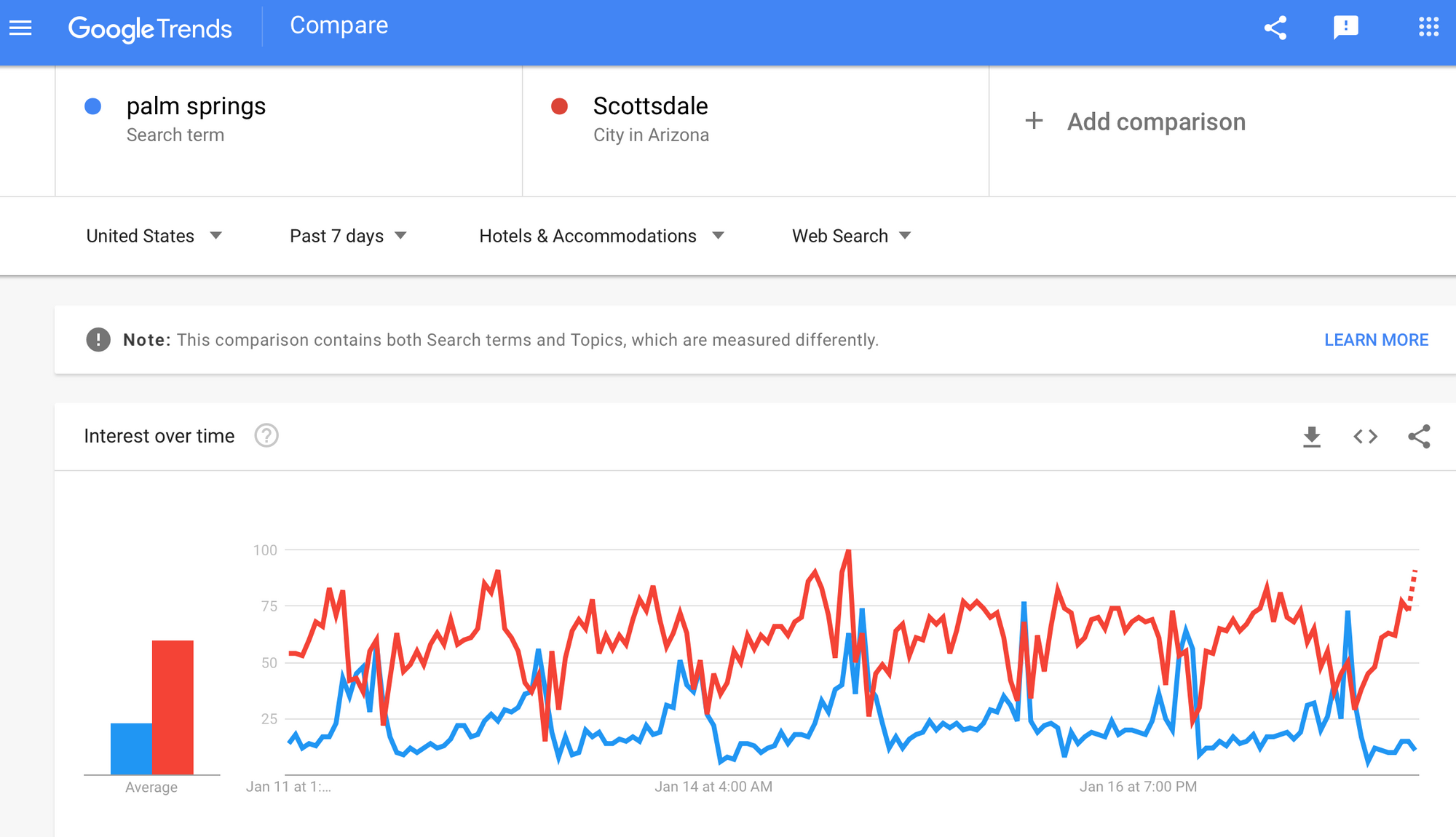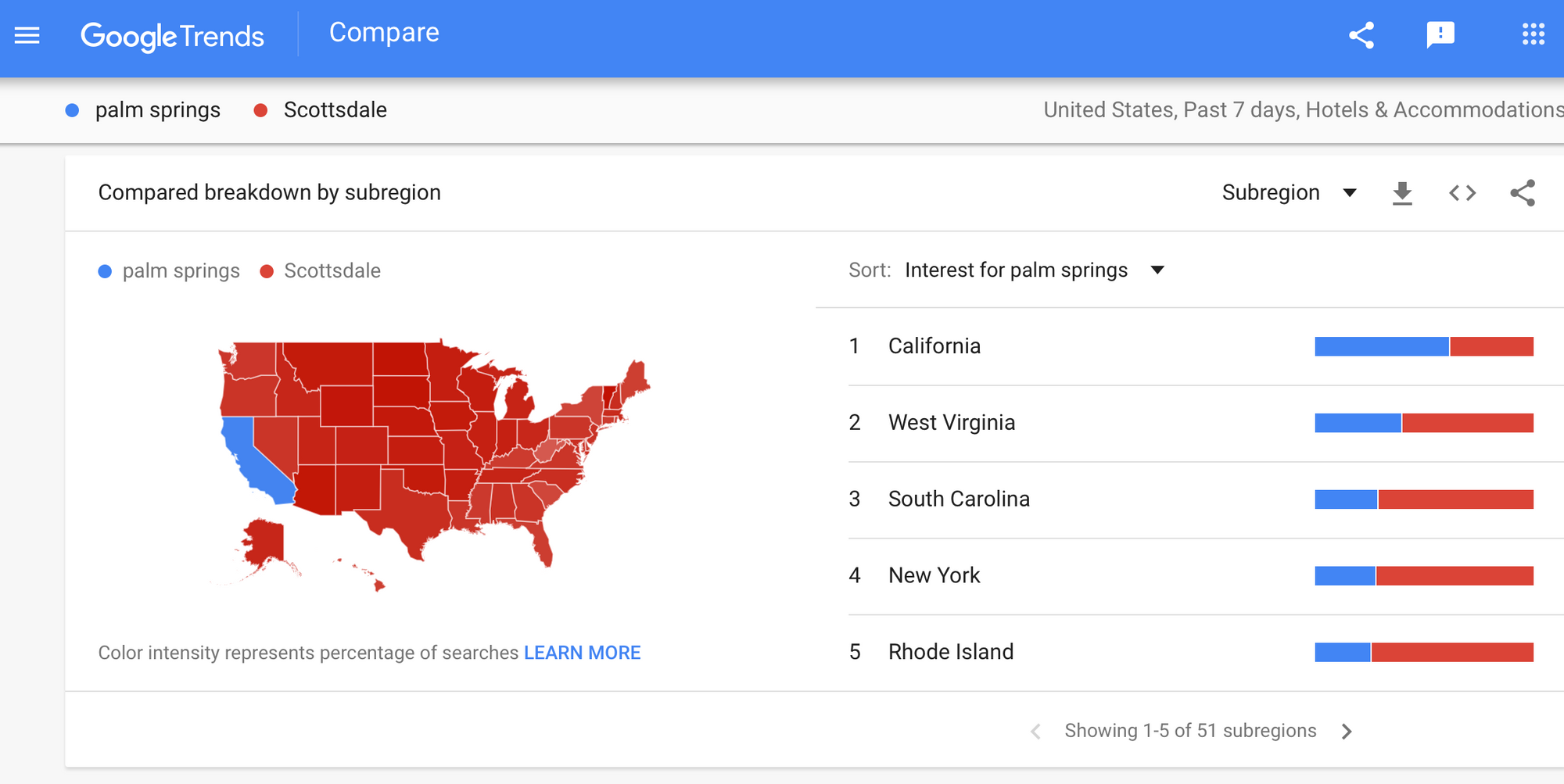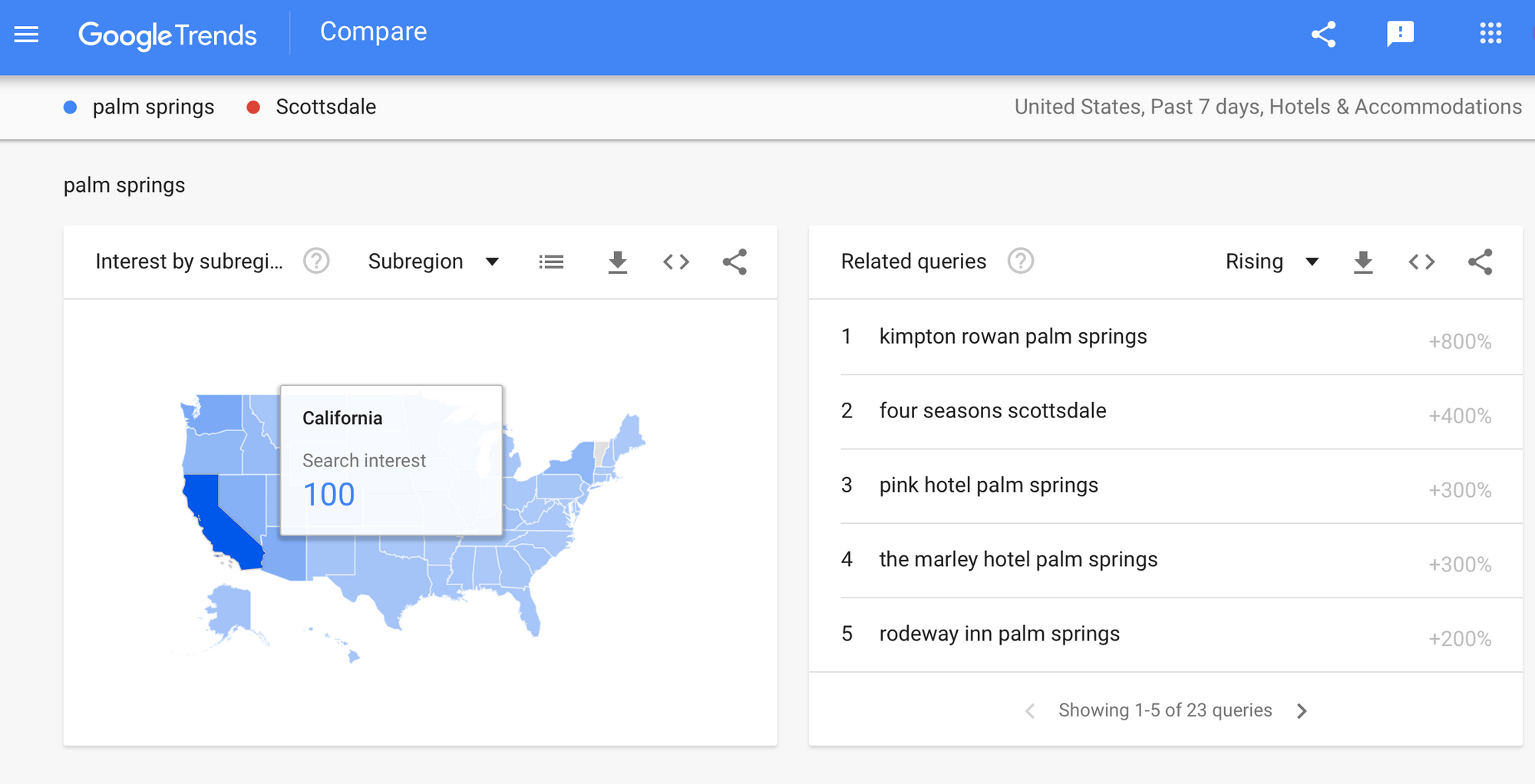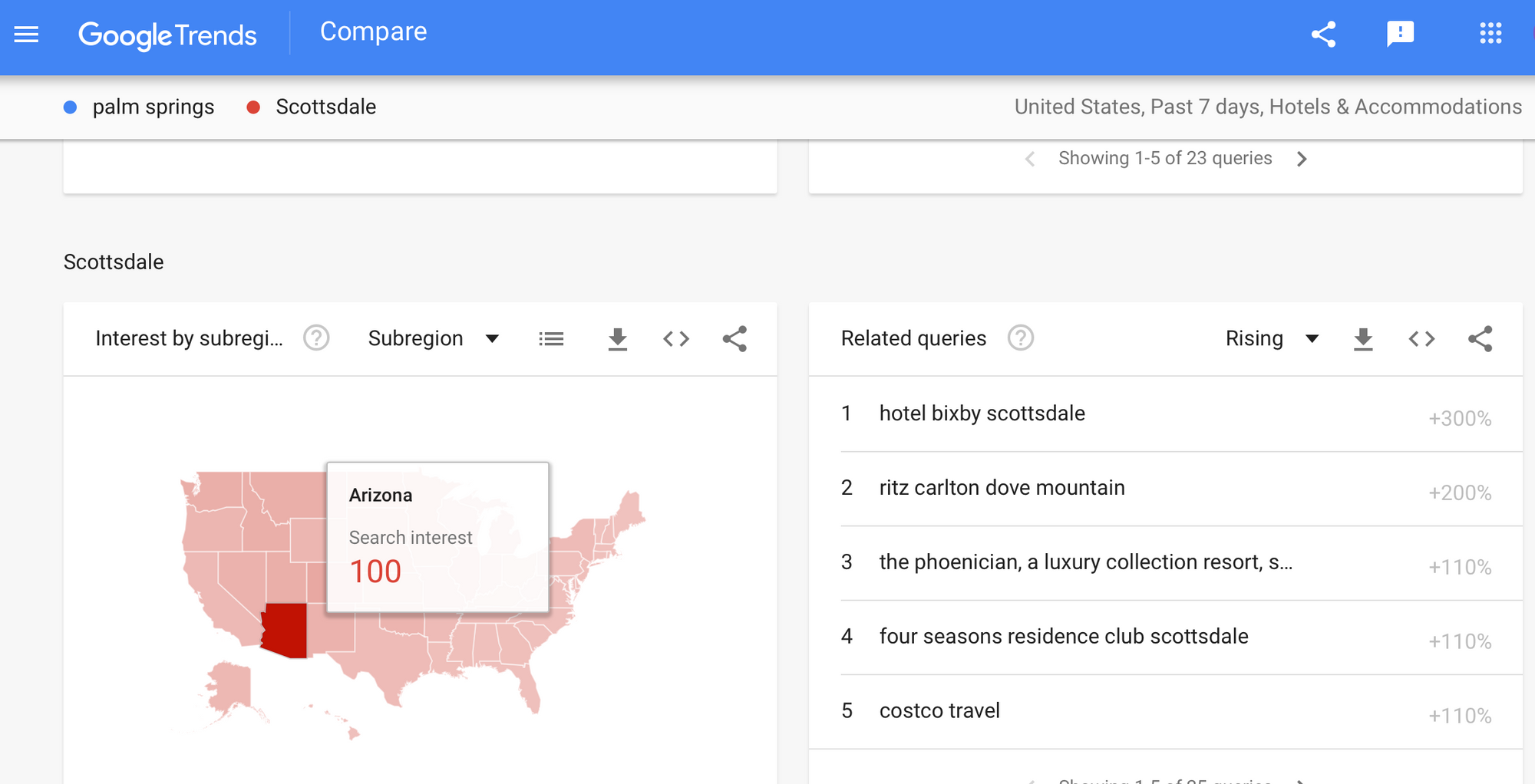 Data for specific hotel search is also available. For example, I compared search results for Kimpton Palm Springs with Hyatt Palm Springs.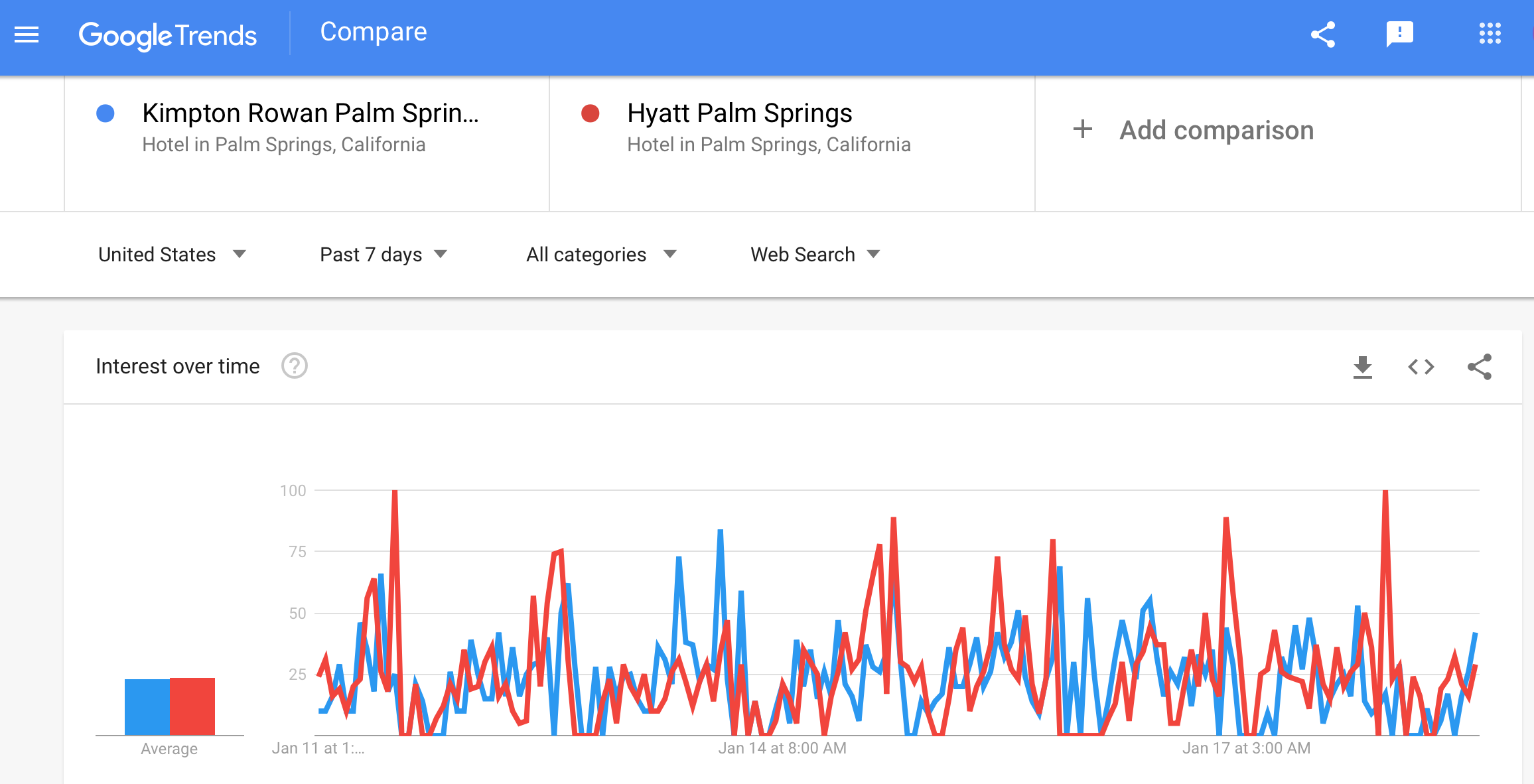 Service offered to commercial travel partners. Hotels can get current and future insights and trends on travel demand and destination popularity by combining hotel's own Google account data with broader Google demand data and insights.
The map is updated daily and shows current COVID-19 travel restrictions for each country around the world. International travelers are a large segment of business for many hotels. This map will help monitor travel restrictions from various countires to the hotel's home country. Based on the information, hotels can make appropriate pricing, marketing, and guest relations decisions.
For example, Canada does not allow tourists from the United States until January 21, 2021. Local hotels should monitor this restriction and focus on other markets until its lifted.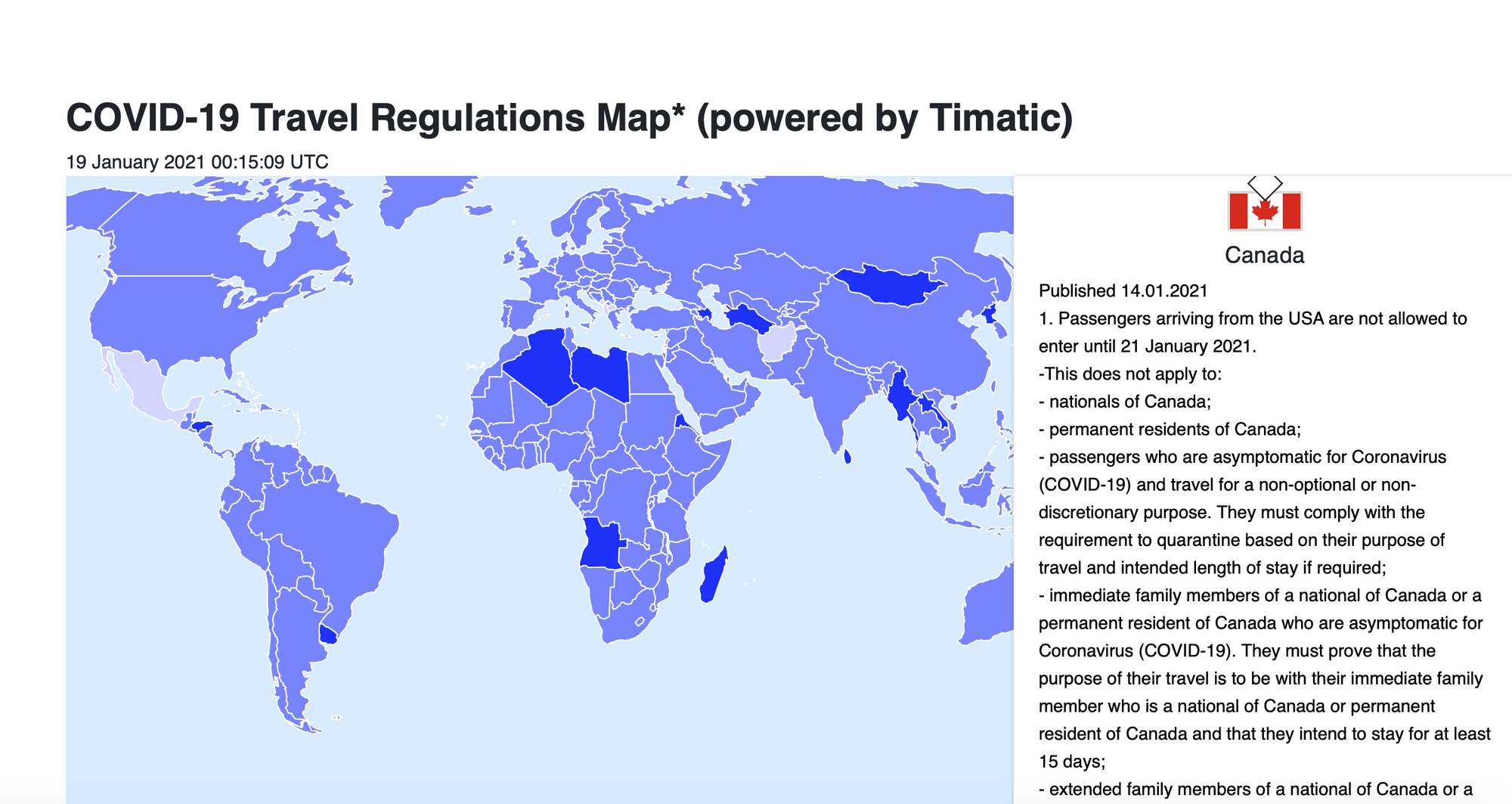 This predictive market intelligence solution captures hotel booking intent for the market in real-time. OTA Insight aggregates data across different sources such as OTAs, GDSs, flight data, holidays, alternative lodging, and meta review sites data to deliver location-specific, segmented demand insights. The solution allows revenue managers to see future demand in real-time via market heatmaps and segment future demand by sub-location, geo search, stay pattern, and accommodation types.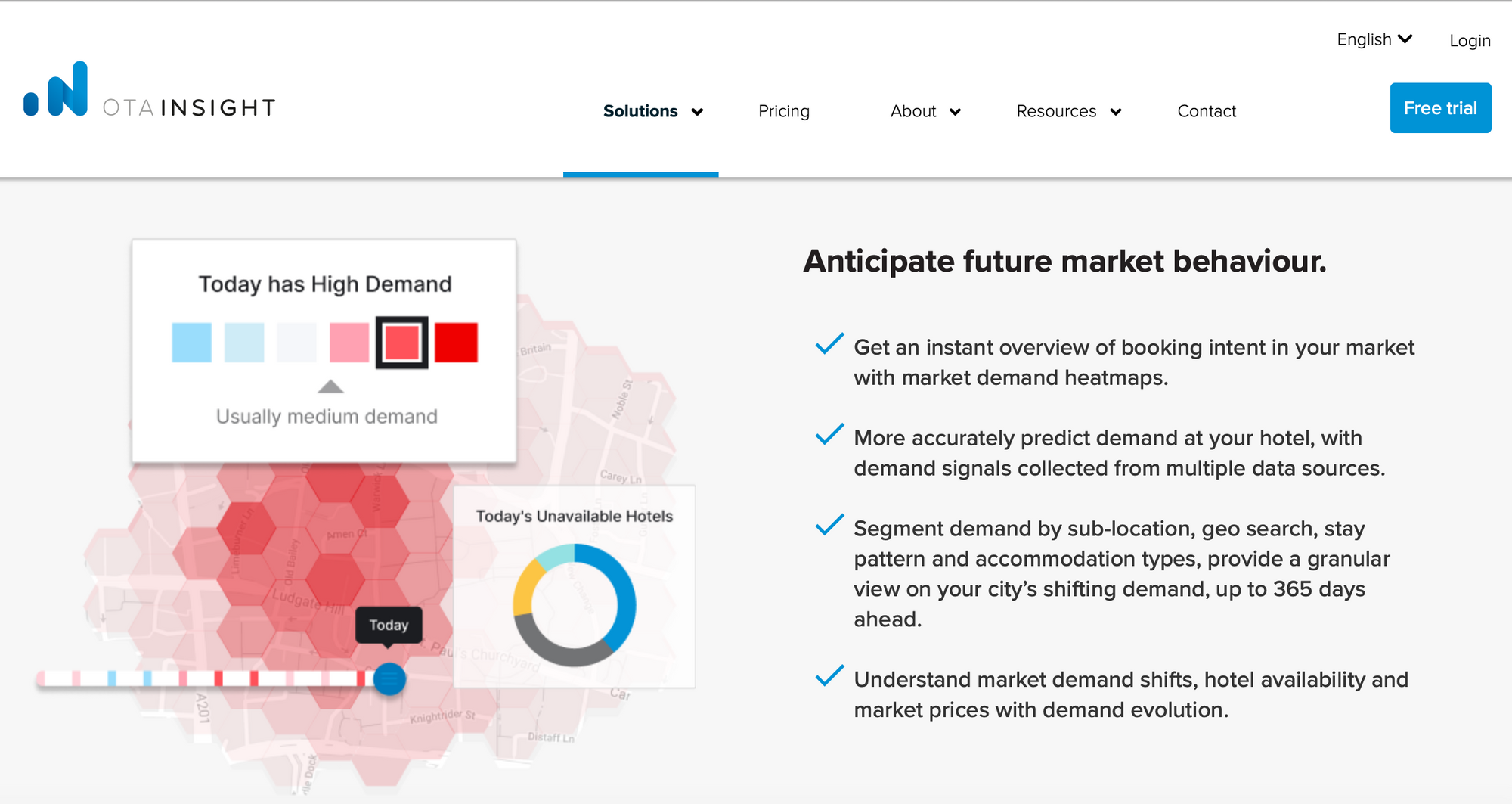 With Market Insight, revenue managers can track future demand changes for different segments and adjust strategies accordingly. It's a fantastic tool that comes with even more features such as a dynamic comp set, real-time smart alerts, and so much more.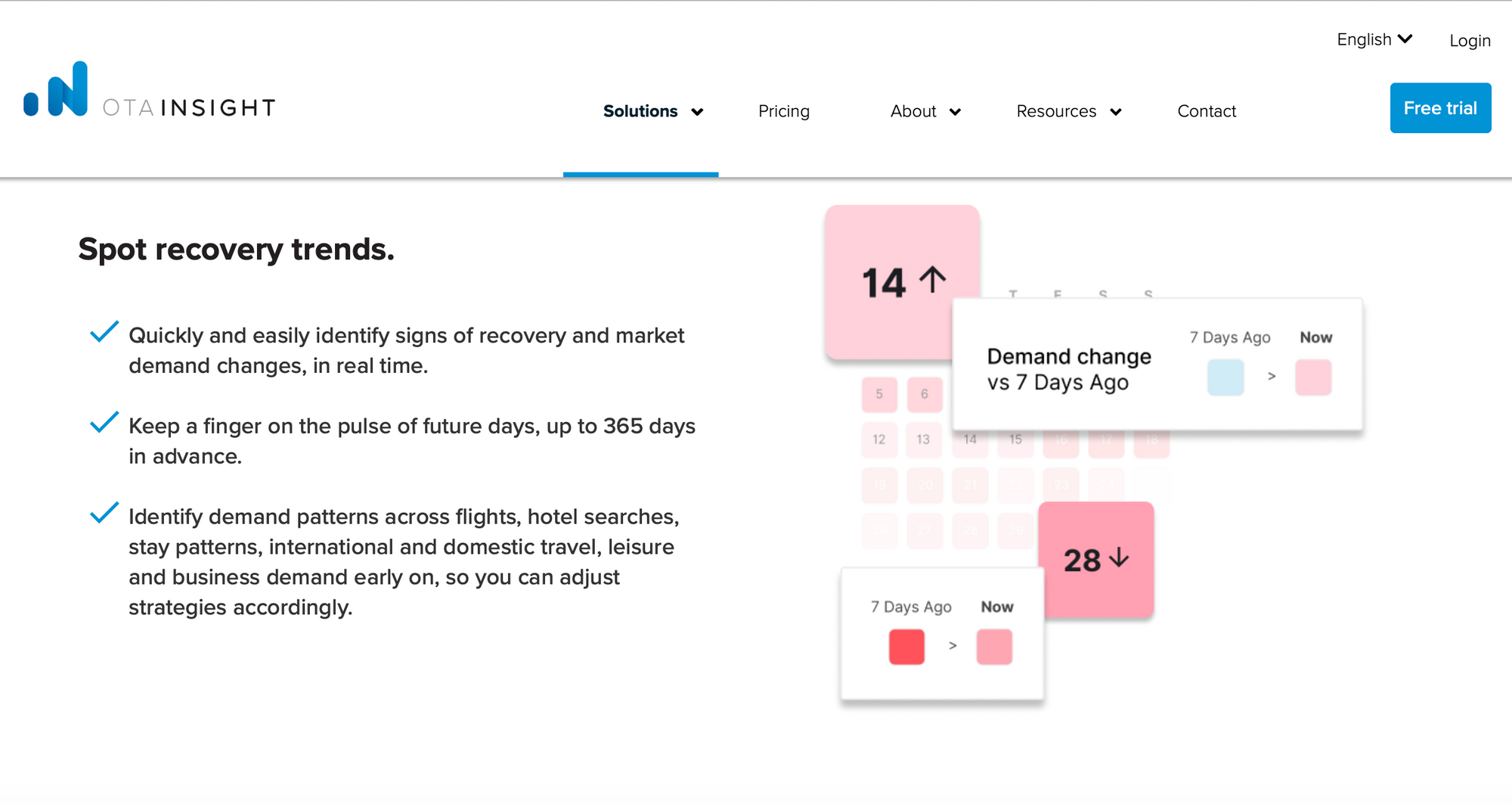 Tripadvisor created this business intelligence solution in partnership with OTA Insight, providing hotels access to future demand data. This solution is unique and leverages data from two industry leaders - search data from Tripadvisor along with OTA Insight's aggregated data on flights, alternative accommodations, and more. Such combination gives revenue managers a reliable tool to assess future demand and create strategies that maximize RevPAR.

This is a hotel-level tool that tracks searches on brand.com. Once installed on the hotel's website, this tool analyzes the browsing patterns to understand user demand and intent better. Revenue Managers can see when visitors are searching for which dates and develop effective pricing and marketing strategies based on this data. The data is presented in an easy to understand dashboard, which is an excellent benefit of using The Hotels Network. This tech solution also helps hotels to increase direct bookings and personalizes the guest experience.
You can read my detailed review here.
A new report from STR gives a 360-degree view of actual occupancy on the books and pickup and compares the hotel's upcoming daily performance with the market and competition. The report allows revenue managers to evaluate the impact of their decisions in advance of a specific period. It shows occupancy on the books and bookings pickup for hotel, competitive set, and the market for the next 90 days (weekly). Such future data allows revenue managers to see a real-time picture of the market and adjust pricing strategies and inventory controls based on changes in the hotel's occupancy and pickup pace compared to the market and competition.
You can read my short review here.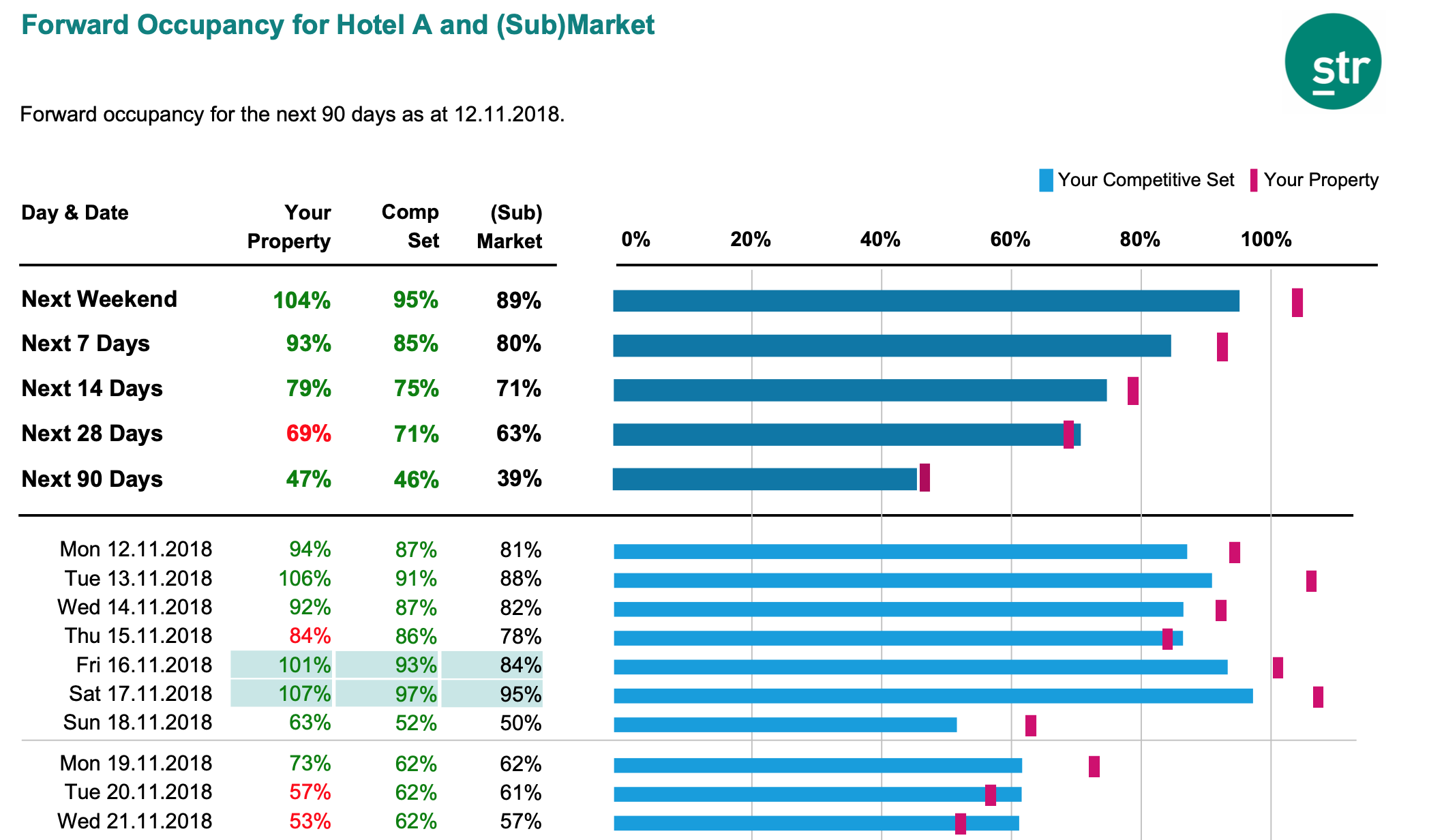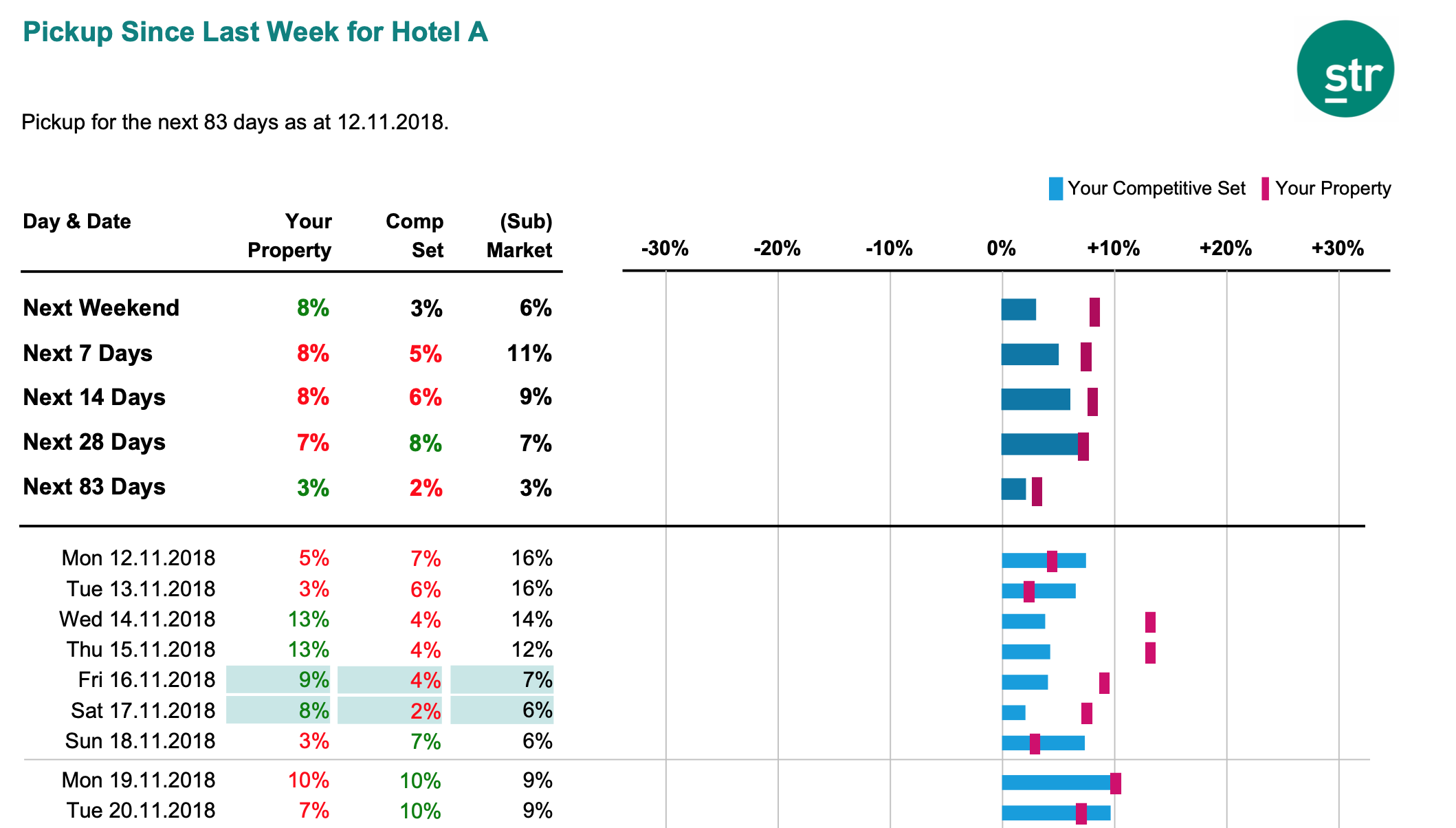 This solution compares the future performance of the hotel to its competitive set. Forward-looking data is very detailed and includes KPIs (ADR, Occ, RevPAR), segmentation (Transient, Group), channel mix (Direct, CRS, OTAs, etc.), booking pace, ranks, LOS. The level of detail is impressive. Demand 360 provides revenue managers with reliable tools to develop and adjust strategies based on the real-time future market data.
The key to success with Demand 360 is to choose the right competitive set. If the comp set is not optimal, all data will be irrelevant.
Many hotels need to re-examine traditional competitive sets because pandemic disrupted the markets and urged hotels to adapt. Hotels had to create new offers, change segmentation and pricing strategies. Chances are traditional competitive set is no longer relevant, and new competition emerged. OTA Insight's idea of a dynamic competitive set (smart comp set) could be the best approach to benchmarking post-pandemic.
---
Comments
Join the newsletter to receive the latest updates in your inbox.