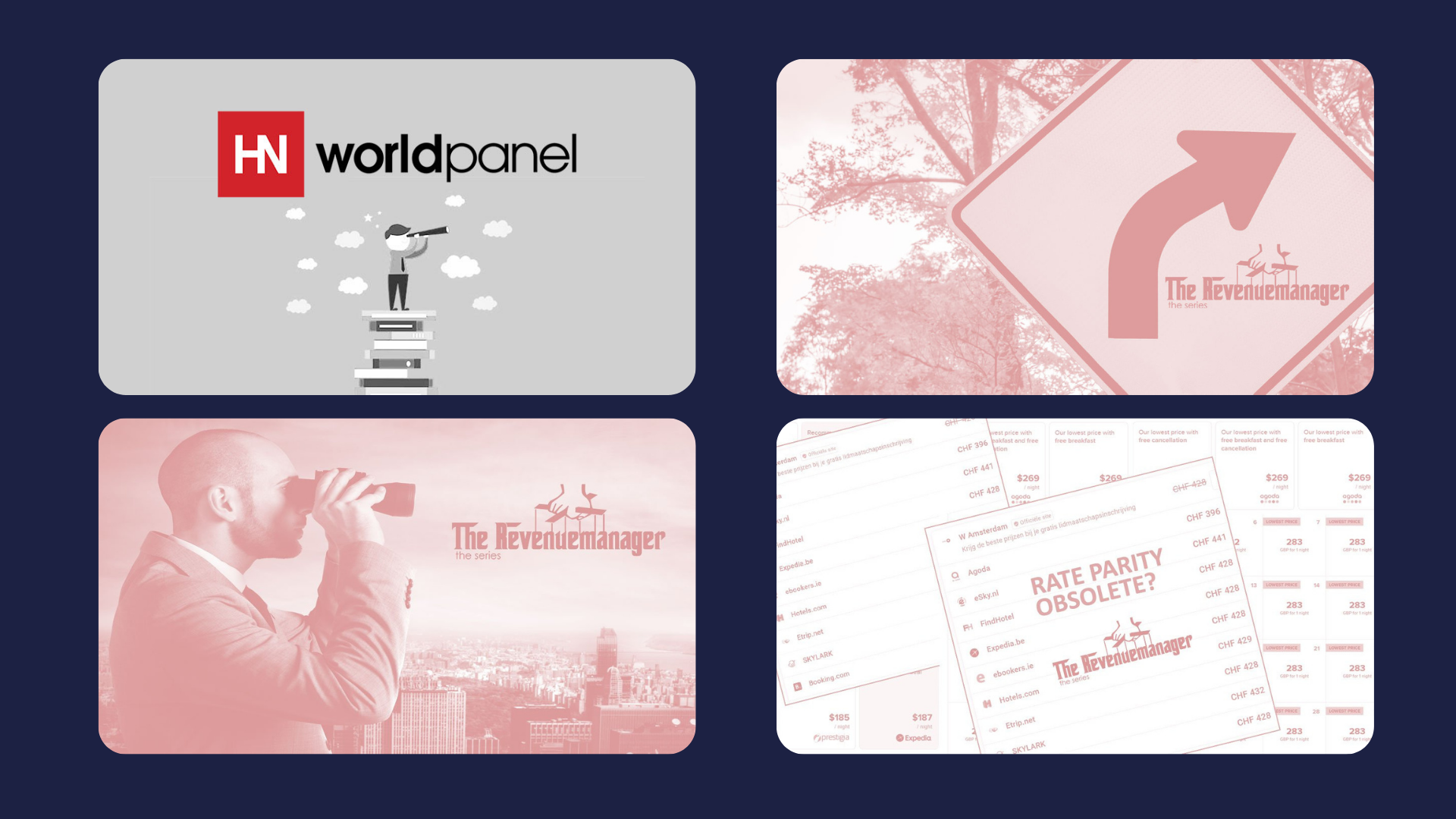 HN World Panel: Return of demand, ancillary revenue, and rate parity
My viewpoints on three vital revenue management questions raised in the Hospitality Net's Revenue Optimization World Panel.
Hospitality Net's World Panel is a thought-leadership platform where hospitality-industry opinion leaders share insights, views, ideas and reactions on important issues and events currently affecting the hospitality business.
I had an opportunity to contribute to the three recent discussions (The Revenuemanager Series) and would like to share my viewpoints. The panel published views of many great industry leaders and I recommend following the links to read all expert opinions. The live streaming events complement the published viewpoints and I share recordings in this post as well.
How can hotels stand ahead of the curve when demand returns?
Hotels should focus on forward-looking data, value, and customer journey.
To stay ahead of the curve, hotels need real-time market demand data. Predictive market intelligence solutions that aggregate data across different sources (OTAs, GDSs, flights, alternative lodging, meta-review sites, etc.) such as Market Insight by OTA Insight or Market Spotlight by TripAdvisor provide valuable future demand data that help hotels to create proactive and effective pricing strategies. Hoteliers should also look for revenue management systems that base forecasts on future data sources (Lybra Assistant RMS).
Successful hotels compete on value, not price. Hotels should sell unique experiences rather than rooms and give guests a wide variety of customisation options. Experiences can be internal and external. For example, look at the guest's arrival process, find ways to make it unique and segment-specific: in-room check-in, cold towel, refreshment drink, shoulder massage in the lobby, etc. Offer cooking class with the chef and movie night at the pool during the stay. Partner with local attractions and create unique experiences for the guests: balloon flights, after-hours access to local attractions, VIP city tours with private guides, exotic car rentals for the stay, meetings with local artists, etc. The key point is that guests have to choose your property to take advantage of these offerings.
The customer journey has been affected by the pandemic. Booking a trip now requires a lot of research - restrictions, travel rules, COVID tests, quarantines, vaccination, etc. Hotels need to identify ways to give future guests all necessary trip information at the right time. It's essential to be proactive and make the planning of the trip and booking process easy for guests. Good service will always be a competitive advantage, and it should start well before the arrival.
---
Is now the time to look at non-room, ancillary revenue? Where are the opportunities?
Revenue managers need to focus on revenue generation. Upselling, cross-selling, total revenue management, new revenue streams should be part of the business strategy. Customization and personalization have to be at the core of revenue generation strategies. Put the guest in the driver's seat. Give the guest the freedom to create a perfect stay at your hotel. Do not wait until the guest books the room and then calls to place a request. Be proactive and turn such requests into revenue streams.
These are some ideas:
1. Let the guests build an ideal hotel stay by choosing room attributes and experiences at the time of booking (Add-On feature). Look at the hotel room as a base product, and then decide what you can sell separately: quiet room location, luxury linens, view, lower floor, cot, extra-large bed, etc. Think about additional services and experiences that will be of value to your guests: late check-out, champagne, fresh flowers, ticket to the local attraction, preferred parking spot, extra housekeeping service, laundry service, etc.
2. Stand out from the competition, drive direct bookings and increase total revenue by selling packages (Bundled rate type). Examine all hotel services and amenities and create bundles: Room plus variations of other elements like parking, spa service, tennis lesson, dinner, bar drinks, movie by the pool, etc. Packages have to be hotel-specific and stand out from competitors' offerings. Experiment! Listen to your guests. Find what works best.
3. Create innovative revenue streams. Hoteliers need to look at both spaces and staff expertise and find new ways of utilizing them. For example:
Housekeeping services for residential and commercial clients
Virtual and on-site cooking, cleaning, gardening, wellness classes
Private chef and bartender for a luxury dining experience at home
Laundry services for local residents and businesses
Repurpose some hotel spaces to create co-working offices
Day-use access to all hotel facilities & amenities for non-guests
---
Is rate parity obsolete?
At first, offering a lower rate on the hotel's website sounds like a great idea. Guest looks for the hotel, sees various rates in Google search results, finds the lowest rate, and proceeds to the hotel's direct channel to book a room. In reality, most of the guests do not search for a specific property and instead look for all available hotels in a particular destination. OTAs appear first in search results and conveniently offer different hotel options. Moreover, OTAs built a large customer base through loyalty programs and partnerships (credit card points redeemable on Expedia, for example). Also, OTAs can help drive customers to the hotel's website. The "billboard effect" suggests that hotels can receive a boost in reservations through their website due to being listed on the OTAs. These are some clear benefits for hotels to partner with OTAs. Rate parity is either a requirement or desirable best practice for such a partnership to be successful.
What if the hotel sends OTAs higher rates?
OTAs monitor rates in real-time, and once the lower rate is discovered, either cut off the property from its platforms or place the hotel very low in search results. Consequently, hotels risk missing out on revenue opportunities by being out of parity with OTAs.
What about OTAs? Do they always display rates the hotel sends them correctly?
Not at all. Suppose the hotel offers the same rate for all channels. In that case, it does not automatically ensure rate parity as OTAs always try to find creative ways to provide lower rates and undercut the hotel's direct channel. One example is offering a discounted rate on the OTA mobile app (this way, the disparity is not visible in Google search) by sacrificing the portion of a commission. Hotels need to monitor rates on OTA channels constantly (invest in a rate shopping BI). Rate parity is a two-way street.
Rate parity ensures a consistent brand image for the hotel and its products in the consumer's eyes through pricing. It allows hotels to benefit from OTAs' marketing efforts and customer base. On the other hand, price transparency shifts focus from value to price and constrains effective revenue management. The balanced approach would be maintaining rate parity across all channels and creating value-focused channel-specific bundled packages to drive revenue and shift share from OTAs to direct channels.
Did hotels become less reliant on OTAs due to the COVID19 pandemic?
OTAs consistently outspend hotels on marketing and technology. I expect OTAs to continue playing an essential role in hotel distribution.
---
Comments
Join the newsletter to receive the latest updates in your inbox.