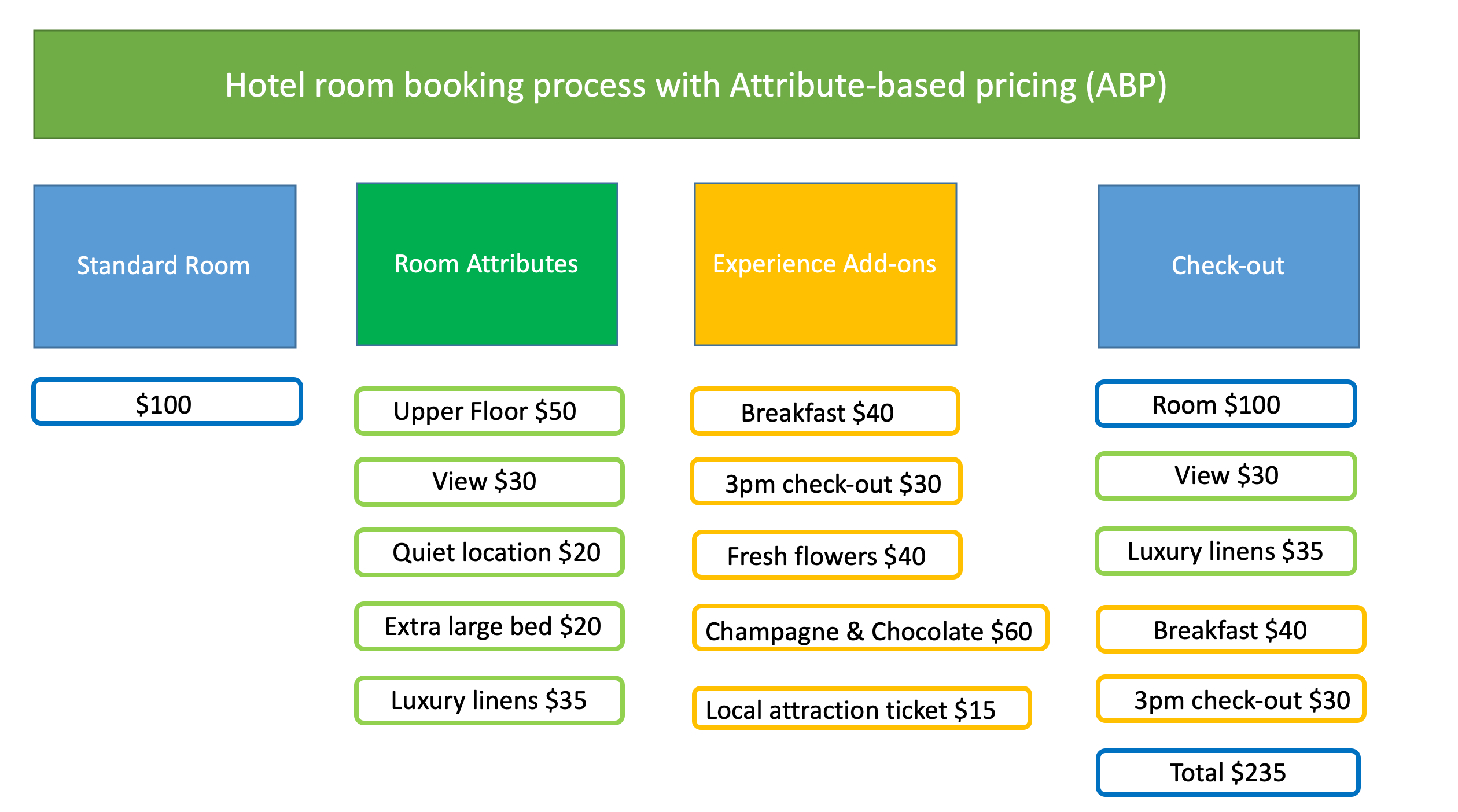 The future of hotel revenue management: Attribute-Based Pricing (ABP)
How to grow hotel revenue and improve customer satisfaction with an attribute-based approach to room pricing.
Attribute-Based Pricing
Consumers have a high level of control when buying products online. Amazon shopping cart has specific products picked by the consumer. There are no surprises.
It is different when buying a hotel stay. Future guests can only choose based on rate and room type. However, the guests will not know until arrival at the hotel how the room exactly will look like and where it will be located. It creates a hotel room anxiety and negatively affects the experience.
We can choose a seat on the airplane, car type at the car rental, and seat in the movie theater. Why can't we choose a specific room? Why can't we build our ideal hotel stay by choosing room attributes and experiences instead of being limited by rate plan and several room types? Attribute-based pricing approach is a perfect answer to these questions.
Dr. Ravi Mehrotra, IDeaS, and George Roukas, Hudson Crossing defined the value of the ABP approach to pricing:
"Every hotel operates using a select number of pre-set room types, but not all of those rooms have the same attributes. Some rooms are on high floors while others are not, bedding types differ, sizes differ, views differ, and a room's location relative to stairways or elevators can also be a sellable room attribute. Such attributes contribute to the value of a room in the mind of a guest, but they are not offered individually— only in bundles."
With attribute-based pricing (ABP), hoteliers will be able to sell every room attribute and additional experience separately. Moreover, attributes can be dynamically priced based on demand, which has the potential to increase total revenue.
The process of booking a room with ABP in place could look like this: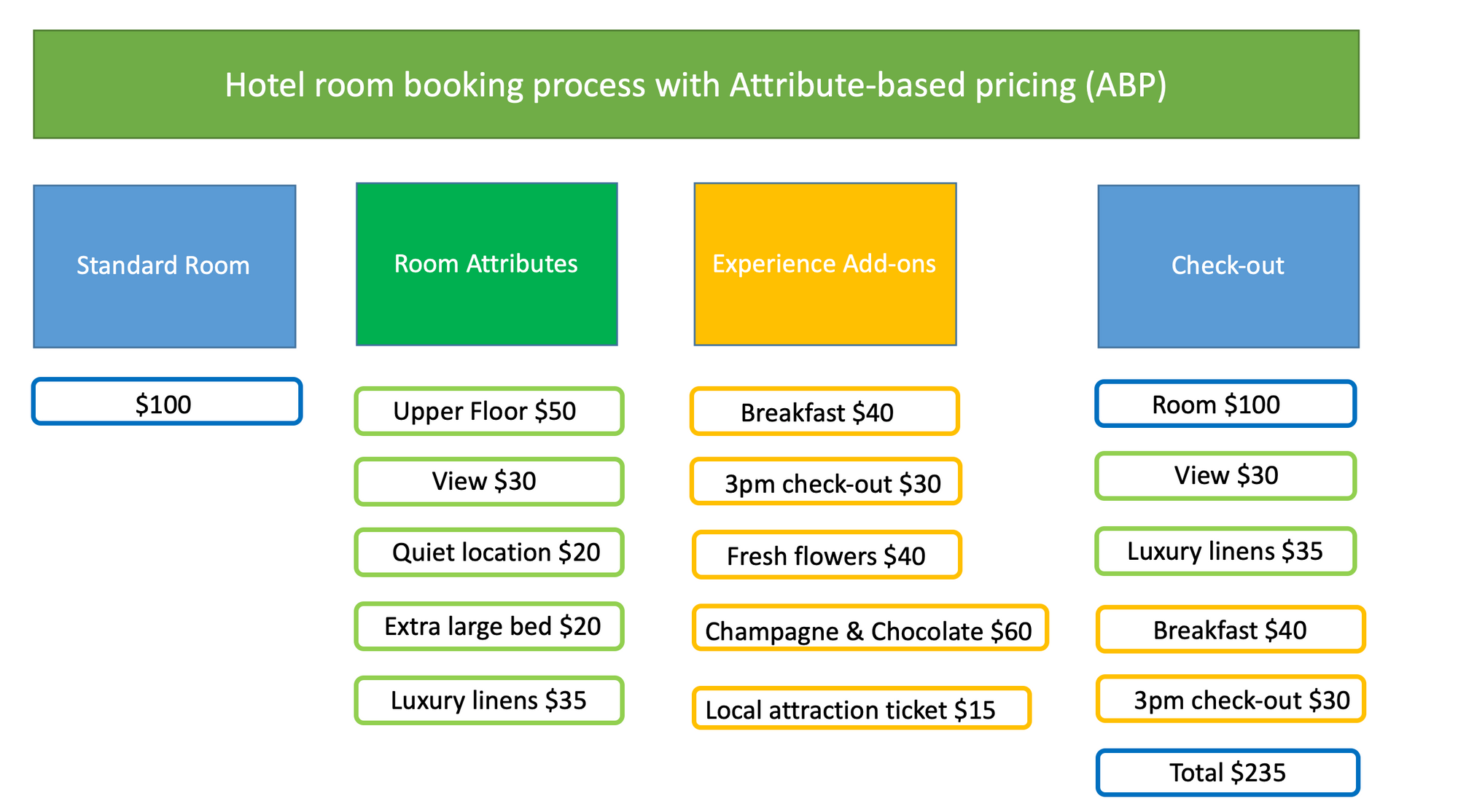 There are clear benefits of attribute-based pricing (ABP) for both consumers and hoteliers:
increase in guest satisfaction and loyalty
guests receive control, flexibility, and customization of the experience
shift share from OTAs to less expensive direct distribution channels
growth in total hotel revenue
incremental revenue generation
competitive advantage
Implementation & management of the ABP presents some challenges:
integration between PMS, CRS and RMS systems (sell room types vs. room attributes)
inventory management and room assignments (manual vs. fully integrated into CRS room assignment algorithm)
integration with OTAs (CRS will have to support two inventory models: room-based for OTAs and attribute-based for brand.com)
implementation costs (new software solutions, training, etc.)
Regardless of implementation challenges, attribute-based pricing is the future of hotel revenue management. It provides more significant revenue opportunities and improves customer satisfaction.
Examples of technical solutions for ABP
SynXis CRS by Sabre Hospitality offers an "Add-On" option.
After the guest picked the room type and before finalizing the booking system allows adding different items to the reservation. For example, it can be breakfast, late check-out, early check-in, parking, tickets, view, upper floor, in-room check-in, etc. Hoteliers can customize the add-ons and have full control of availability, inventory, price, etc.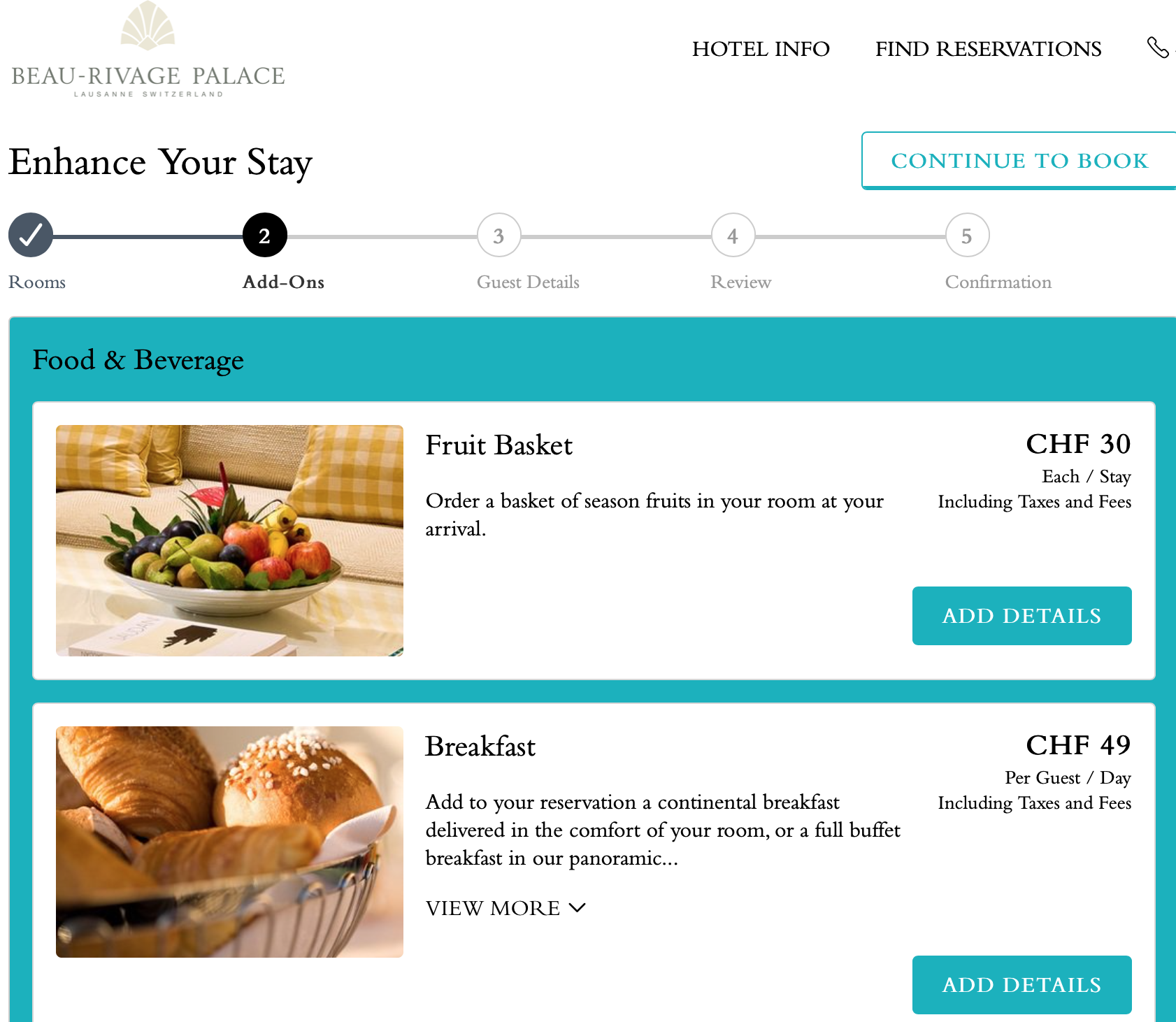 Amazing startup Koridor My Room (part of Nevotek now) gave guests an option to pick a specific room at the hotel after reservation is made. It also allowed guests to choose an upgraded room type for a fee and add-on items like breakfast and early check-in. I had a pleasure of working with Koridor. Guests loved the option to see and pick the room before arrival.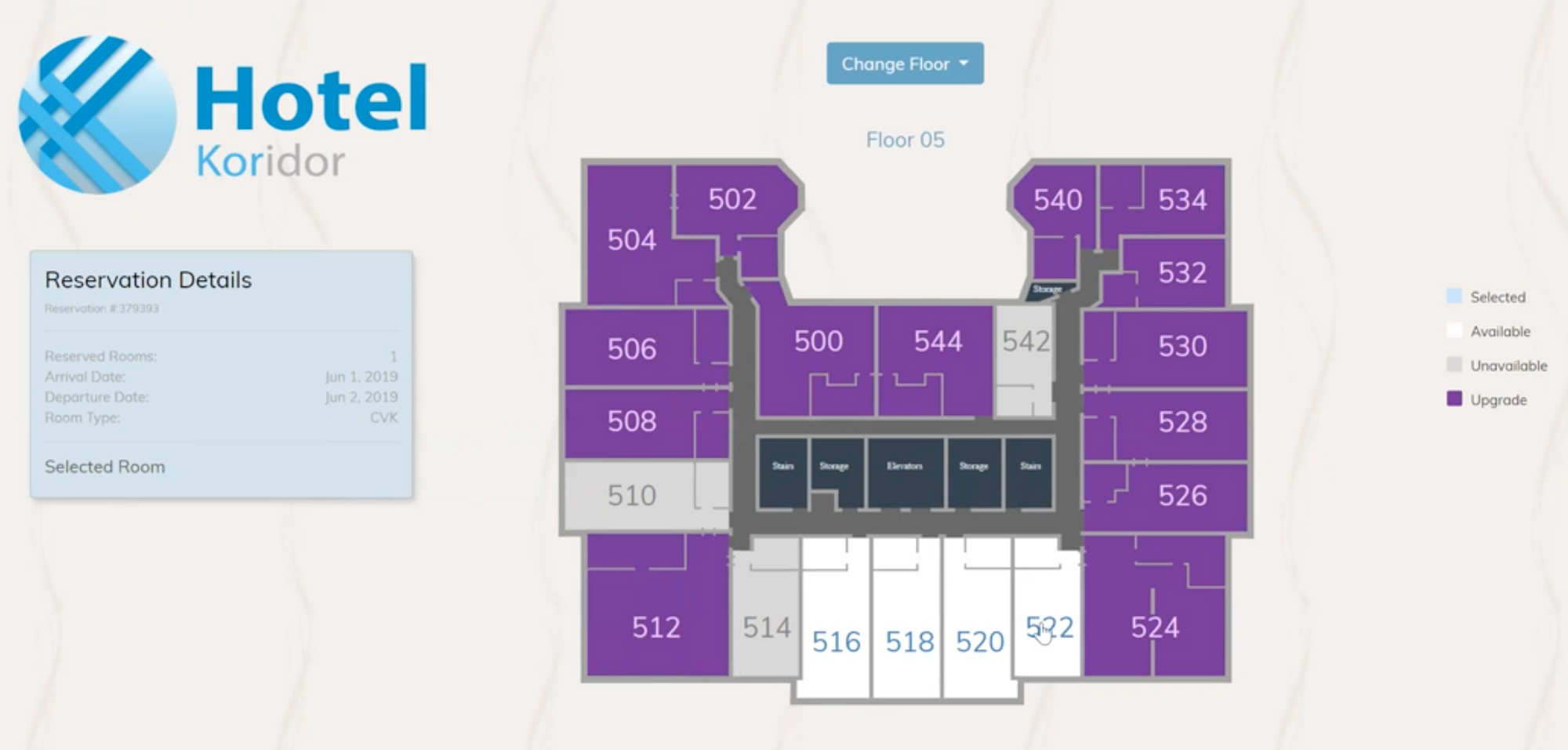 Koridor team would come to the property and take photos and videos of every room and create a floor plan of the property. Guests had an option to look at floor plans, click on every room, and precisely see how the room looks (photos & 3D tour).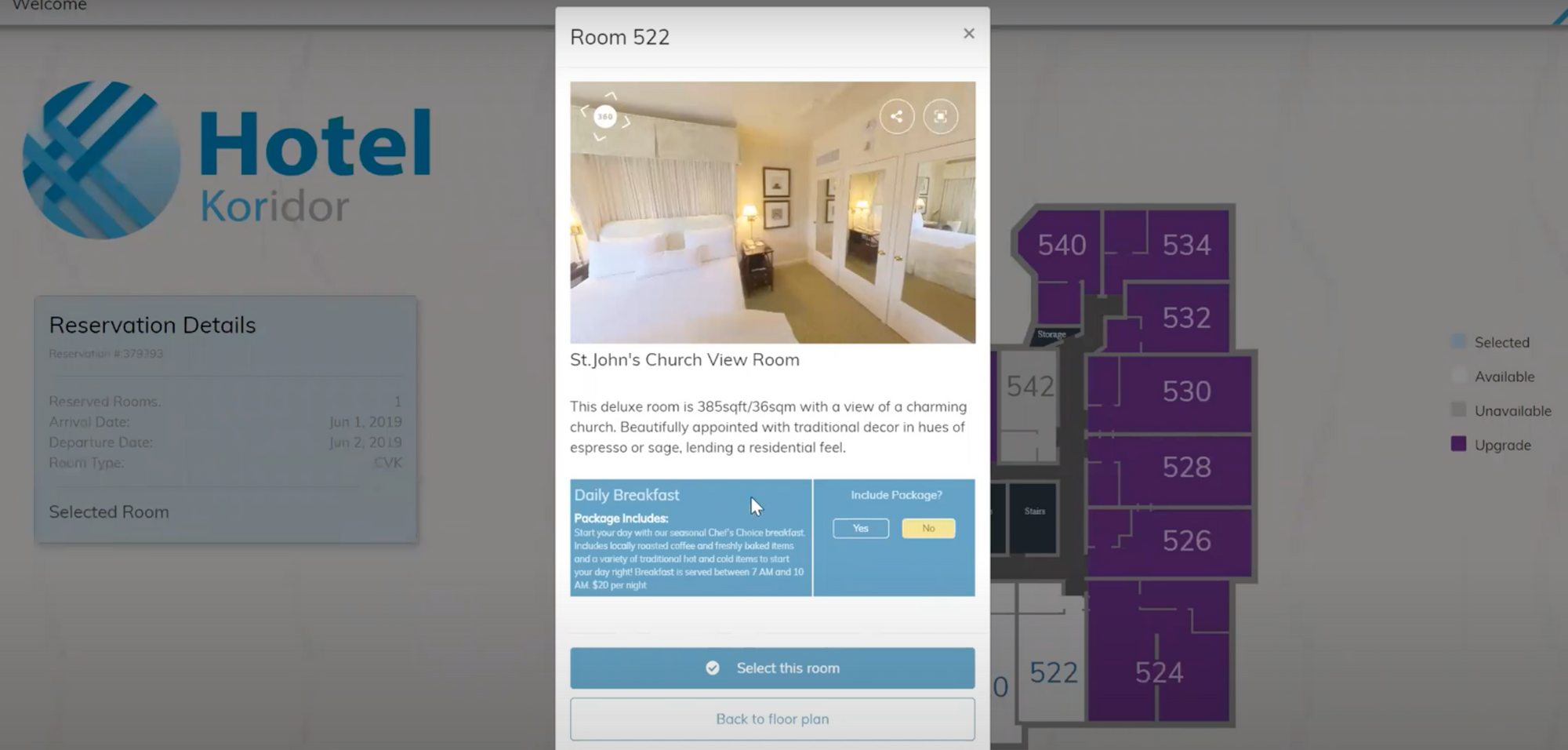 The booking process would be the following:
Book on brand.com --> receive an e-mail invitation to pick a room --> pick a room within a booked category or choose higher room category for a fee; add breakfast, late c/o --> request comes directly to PMS --> Front Desk assigns the requested room.
---
Sources
Attribute-Based Pricing. What Is It & Why Does It Matter? by Dr. Ravi Mehrotra, IDeaS, and George Roukas, Hudson Crossing
Sabre SynXis CRS: Is it Right for Your Hotel Group? [2020 Review] by Hotel Tech Report
MyRoom combines AR and virtual tours to help hotel guests choose a room by Rob Gill
Comments
Join the newsletter to receive the latest updates in your inbox.