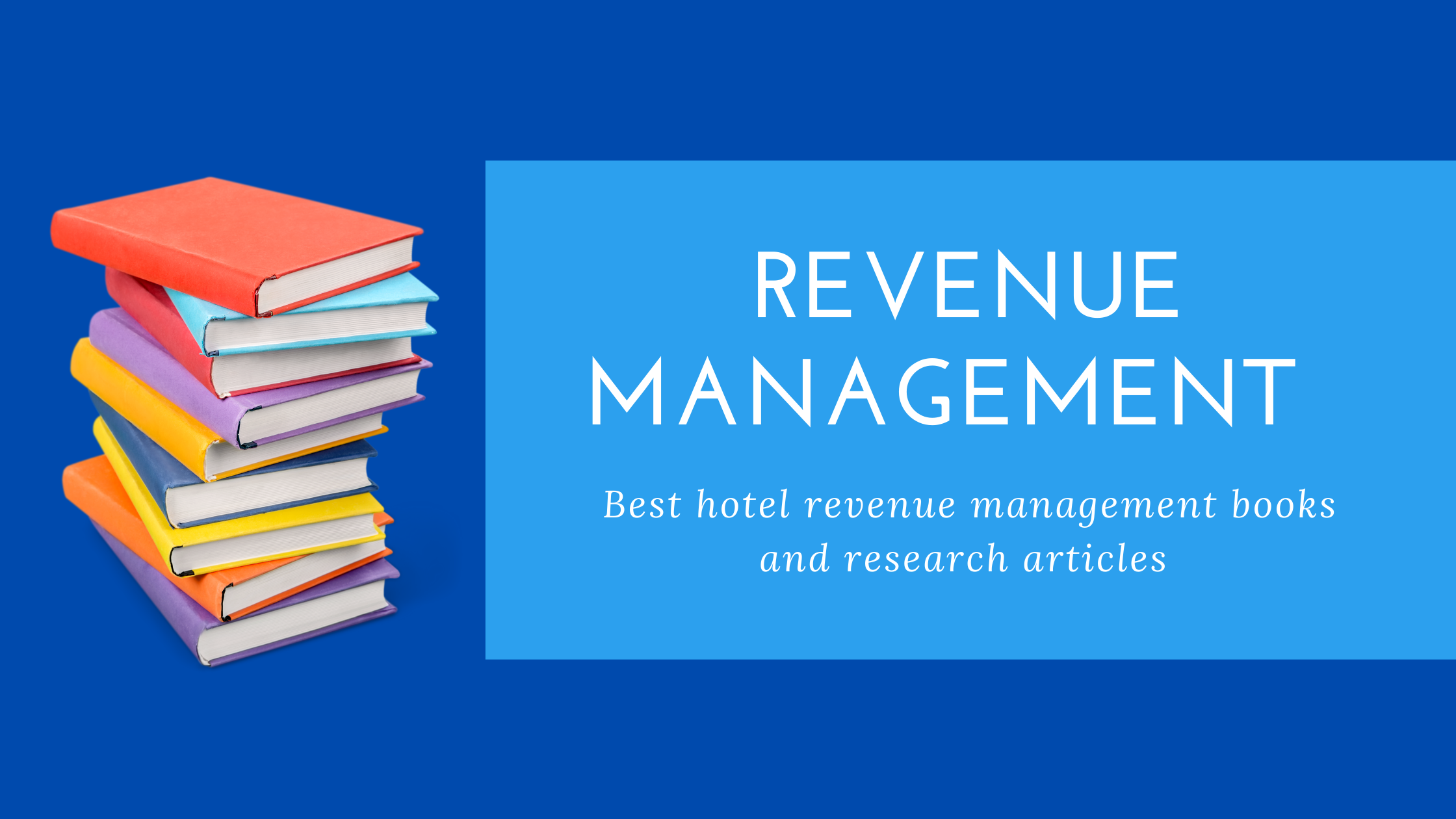 Best hotel revenue management books and research articles
Review of the best publications dedicated to hotel revenue management.
Revenue management is a dynamic discipline that continually evolves. It's vital to understand the basic principles as well as stay on top of the new developments. Revenue management courses require a considerable time commitment and financial investment. The book is a great alternative to learn about revenue management or find an answer to a specific question. In this article, I review the best publications dedicated to hotel revenue management.
Author: Kathleen Cullen
Year: 2019
Publisher: HSMAI & STR (partner)
If you ask me to name just one book to read about revenue management, I would recommend this excellent study guide. It has the most up-to-date and forward-looking information on revenue optimization principles, practices, and strategies. This book serves as a study guide for the industry's most prestigious CRME (Certified Hospitality Revenue Management Executive) certification exam. CRME certification confirms revenue professional's knowledge, experience, and capabilities. The CRME exam would be an essential step to take your career to the next level but is not a requirement. You can just purchase the book and get very comprehensive knowledge about revenue management.
The guide explores the following topics: role and qualifications of revenue professional, departmental integration, basic economics, market, segmentation, forecasting, pricing, inventory controls, total revenue optimization, KPIs, distribution, hotel technology, and digital marketing. It's a must-read book for new revenue managers as well as experienced revenue professionals.
Author: HSMAIs Marketing Advisory Board
Year: 2019
Publisher: HSMAI
Mastering digital marketing is essential for revenue management professionals. Times, when revenue and marketing departments worked in silos, have passed. Successful revenue generation requires close collaboration between revenue and marketing. Revenue managers need to learn digital marketing to make such cooperation productive and effective.
This book is an excellent and most up-to-date digital marketing guide covering the following topics: owned media, earned media, paid media, digital intermediaries, recent trends, and how to measure and manage digital performance. The book also serves as a study guide for HSMAI's prestigious CHDM (Certified Hospitality Digital Marketer) certification.
I highly recommend both HSMAI publications. HSMAI (Hospitality Sales & Marketing Association International) is the hospitality industry's leading sales, revenue, and marketing organization with more than 7,000 members worldwide. It provides hospitality professionals and their partners with tools, insights, and expertise to fuel sales, inspire marketing, and optimize revenue. The study guides were created by hoteliers and endorsed by industry leaders. These books are a must-read for revenue managers.
Note: Both guides cover digital marketing. The "Digital Marketing Essentials" gives a more comprehensive overview. If you have to choose between these two books, select "Evolving Dynamics: From Revenue Management to Revenue Strategy" because it covers all the essential revenue management topics.
---
Author: Gabor Forgacs
Year: 2017
Publisher: American Hotel & Lodging Association (AH&LA)
AH&L educational institute has been a leader in hospitality education, training, and certification for more than 65 years. This book serves as a study guide for CHRM (Certified Hospitality Revenue Manager) certification.  It's an excellent book that covers all essential revenue management topics. It distinguishes between tactical and strategic revenue management and provides a basic understanding of the revenue management process. The chapter about distribution channel management is one of the most critical chapters in the book. Channel management is essential in the post-pandemic world as hotels focus on lowering the distribution costs.
---
Author: Kelly A. McGuire
Year: 2015
Publisher: Wiley
Internet and social media changed the world forever. Revenue management discipline is not an exception. The book will help you understand how to keep your hotel relevant from a pricing standpoint in today's digital world.
The first chapter is dedicated to the evolution of revenue management and analytics. It also discusses the role of big data in revenue optimization. The second chapter explains the connection between price, hotel ratings, and reviews, teaches how to integrate marketing and revenue management, and describes how to develop a total revenue management strategy for the hotel. The third and final chapter is dedicated to strategic pricing, the role of revenue management in the personalization of guest experience, and the future of the revenue management discipline.
---
Authors: David K. Hayes & Allisha Miller
Year: 2010
Publisher: Wiley
It's a great foundation book. Yes, many things changed since the book was published in 2010, but core principles remain unchanged. The book covers all essential core topics: strategic and differential pricing, value, demand forecasting, inventory & distribution channel management. The book also discusses in detail some essential topics that either do not appear in other revenue management books or have little coverage. These topics include STAR reports, market share and competitive set analyses, F&B revenue management and analytics. The book is well-structured. There are numerous revenue management examples from the hospitality industry and a running case example throughout the book.
---
Editor: Peter Szende
Year: 2020
Publisher: Apple Academic Press
The book's multi-author collaborative approach makes it stand out from other publications. Dr. Szende, a Programme Lead in Hospitality Management at Oxford Brookes Business School, identified the leading experts in their respective subject areas and asked to share their expertise. Experts include Revenue Management Directors, VPs of Sales & Marketing, Commerical Directors, Business Analysts, and Hotel Executives. The book is written by hoteliers with real-life experience in revenue management.
The book places the reader in the role of revenue manager who faces daily challenges and strives to maximize revenue for the hotel. It combines concepts and best practices. It's the perfect approach to learn about revenue management principles and see how to implement them in the real world.
The book covers all essential topics such as pricing, segmentation, forecasting, distribution, competitive analysis, performance analysis, and total revenue management. It also has some specific topics that receive less coverage in other publications, such as restaurant, function space, and cruise line revenue management.
---
Editor: Cathy Enz
Year: 2010
Publisher: SAGE Publications, Inc
This book contains articles from hospitality professors and serves as a comprehensive reference for strategic hospitality management. It's a collection of articles covering different strategic areas of hospitality management: human resources, revenue management, service, growth, cultures, structures, standards, change management, etc. It's a must-have book for every hospitality executive.
The book has a chapter dedicated to strategic pricing and revenue management that consists of five articles. Topics covered include strategic pricing, evolution & overview of revenue management, group revenue management, spa revenue management, and demand management. Group and spa topics stand out because they receive very little or no coverage in other publications.
This book gives a detailed overview of the hotel business and will be valuable for hotel owners and operators tasked with making strategic decisions.
---
Author: Woody Wade
Year: 2012
Publisher: Wiley
It's an essential book for revenue management professionals. Future holds threats and opportunities that will have a profound effect on your hospitality business. The new hotel enters the market, the flight route to your market is closed, reservation history is gone from the server, another pandemic strikes, new market segments emerge. Should we "wing it" and deal with the future when it happens, or should we prepare the best possible actions in advance? This book explains how to identify trends, pick critical uncertainties, develop possible scenarios and action plans for every scenario.
I apply this method to explore the post-pandemic future of the Group Segment in this article.
---
Sherri Kimes is a globally recognized revenue management expert. She is a Professor at the Cornell University School of Hotel Administration and has been teaching, conducting research, and consulting for over 25 years. Sherri is the author of the industry's top revenue management courses.
Sherri's research articles and case studies are of great value for revenue management leaders. She covers a wide range of topics: revenue management & COVID19 challenges, the evolution of revenue management and its future, revenue management in the economic downturn, pricing, etc. Many articles are dedicated to restaurant revenue management: implementation of revenue management in the restaurant, determination of the best table mix, menu price formats, etc.
---
Chris Anderson is a Professor at Cornell University School of Hotel Administration. He is the author of eCornell's Data Analytics, Data Analytics in R, Revenue Management certificate programs. He serves on the editorial board of Service Science, Cornell Hospitality Quarterly, Journal of Revenue and Pricing Management, and is the regional editor for the International Journal of Revenue Management.
Chris published many research articles focused on data analytics and its application to service pricing. Articles cover the following topics: dynamic pricing, choice-based dynamic pricing for vacation rentals, opaque selling mechanisms, demand models, booking limits, asymmetric price effects, perceptions of value, and many more.
---
Ready to take your revenue management career to the next level? In this article, I recommend the industry's best revenue management courses and certificate programs.
---
---
Comments
Join the newsletter to receive the latest updates in your inbox.