A hotel benchmarking use case: Spotting weaknesses & identifying opportunities to boost direct bookings
BenchDirect by The Hotels Network is the first benchmarking platform for the hotel's direct channel. This article shows an example of how BenchDirect tools can help hotels spot opportunities and improve direct bookings.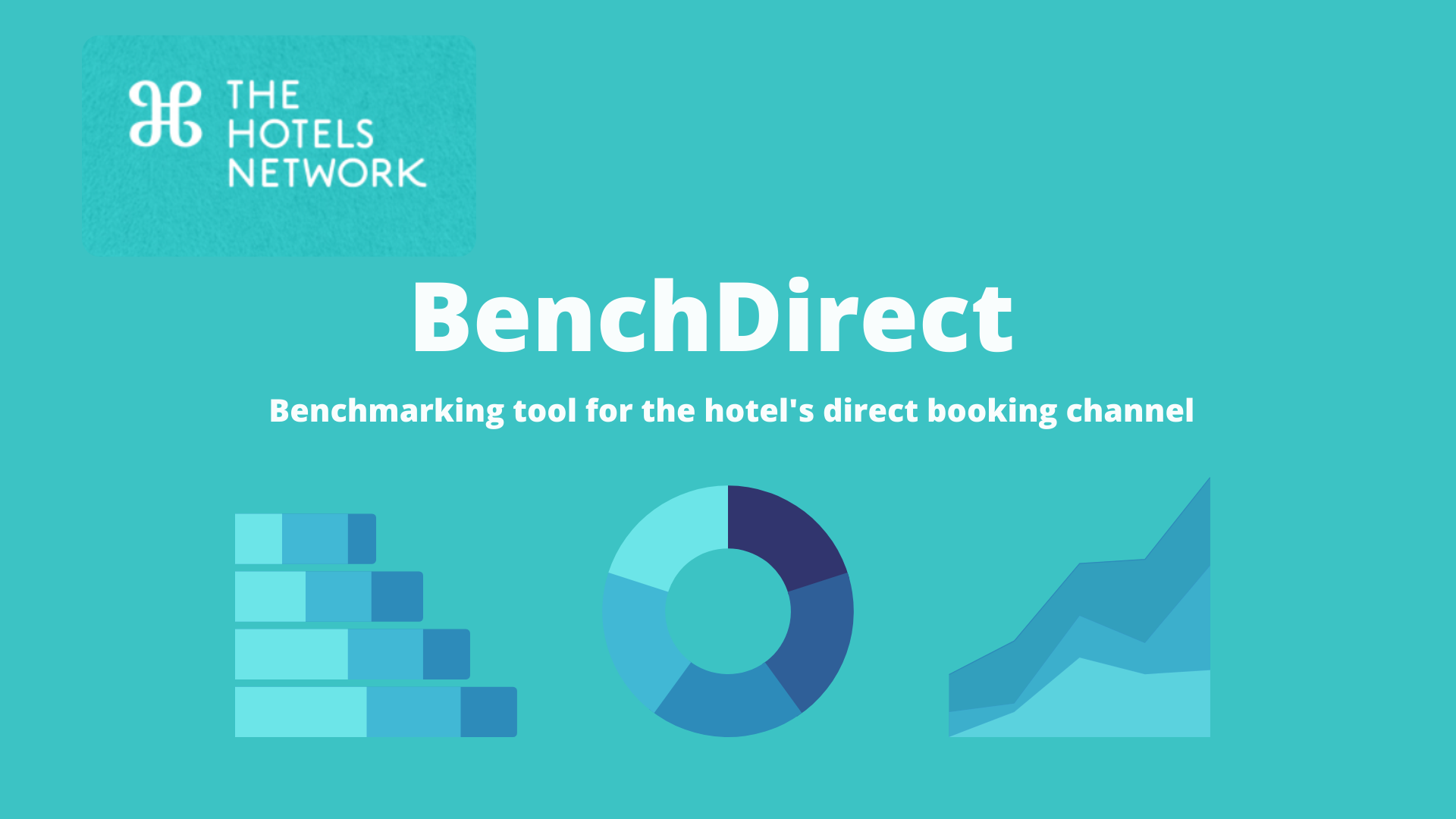 Hotel benchmarking is essential to every hotel brand's growth strategy. From five-star luxury properties to serviced apartments and everything in between. Benchmarking allows you to not only to understand your hotel's performance compared to the market but identify areas where you can improve.
The traditional benchmarking scene focuses on comparing occupancy and rates, giving little understanding of how these results came to be. That is why The Hotels Network (THN), a full-stack direct channel platform, decided to launch BenchDirect, the first benchmarking platform for your hotel's direct channel. Taking a completely new approach, BenchDirect provides real-time insights to break down the entire booking funnel and understand your hotel's performance compared to the market and competition.
This new tool offers you the chance to benchmark your data against multiple dynamic competitive sets, covering more than 30 key metrics. Providing you with invaluable insights to help you unravel the building blocks of your direct channel strategy. Some of the key metrics highlighted in BenchDirect include Conversion rates, LOS to Disparities and Average Booking Value, all of which can be drilled down and filtered by source, travel party, country and more!
But knowing how to analyze this data, how to determine areas for improvement, where opportunities lie and what actions to take can be baffling for even the most seasoned hoteliers. That is why we are breaking down one real hotel example of the BenchDirect tools in action to showcase a common problem faced by many hoteliers, a low mobile conversion rate. Let's dive into it!
The Scene
To better understand the hotel performance in terms of mobile conversion, we are cross-filtering two key metrics of the property's direct booking channel: Visitor Profile and Conversion Rate. These metrics help to identify the main source of traffic per device for the hotel's website, and how well are converting the lookers from each device.
The Visitor Profile metric shows the distribution of desktop versus mobile searches among the website visitors for the hotel and compsets. Comparing the hotel's results to the three compsets, it's clear that the hotel has the highest percentage of mobile visitors at 68.9% mobile searches.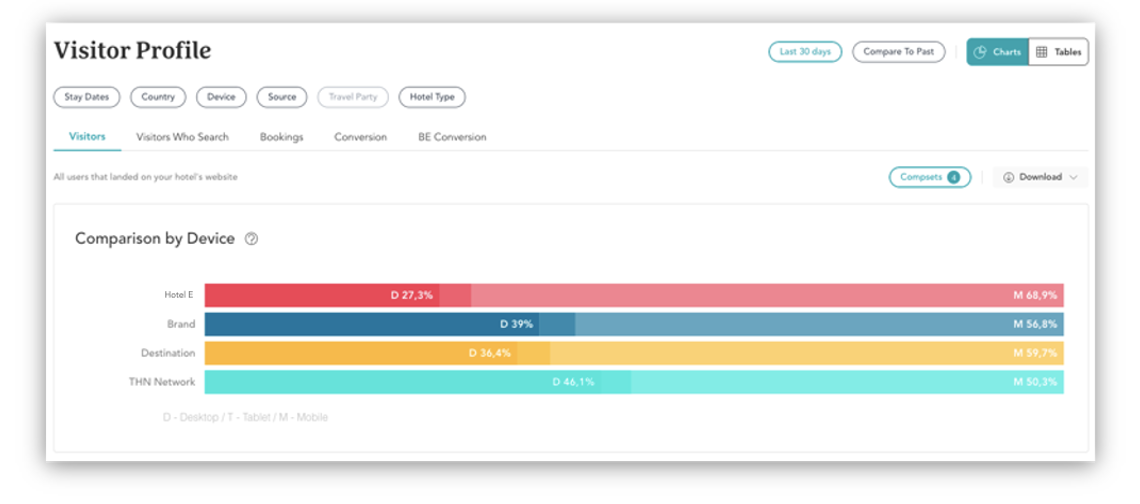 The Total Conversion metric filtered by device type provides a better understanding on how these mobile visitors are converting. As the dotted red line indicates, the hotel has the lowest total conversion for mobile visitors compared to the other three compsets. This means that the hotel is unable to convert its high volume of mobile traffic into actual bookers.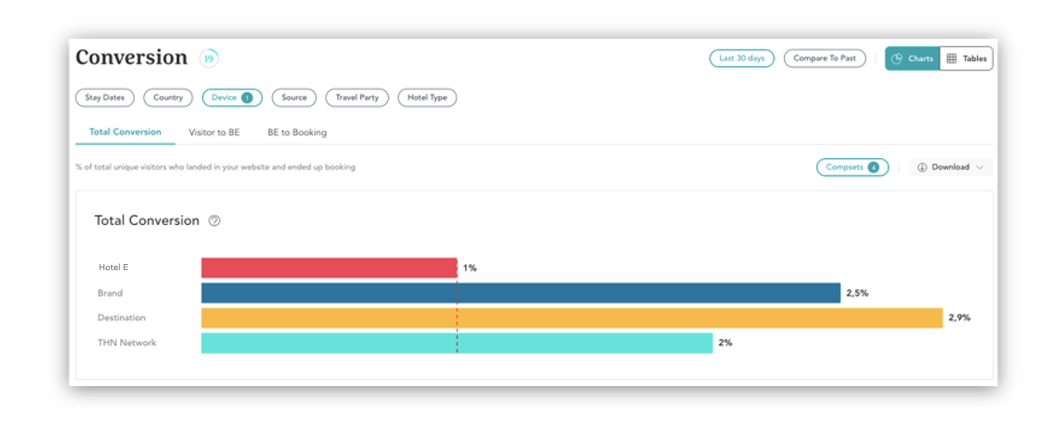 The Opportunity
The data indicates that the hotel is falling short in attracting these visitors searching from their mobile device into following through with a reservation. There is therefore an opportunity to increase their revenue by improving the mobile user experience and using relevant conversion optimizations techniques.
Best Practices
Based on the valuable opportunity identified from the analysis, the hotel should look for ways to improve the conversion rate of their mobile visitors.
This can be done by creating customized messages directly towards their mobile audience. With today's personalization technology, it's possible to create relevant website messages and offers exclusively towards mobile audiences. By combining hyper-relevant offers that can help nudge visitors down the booking funnel and entice that much needed mobile booking. The hotel should create mobile-exclusive offers ensuring that these deals can only be booked on a mobile device, boosting the conversion rate and revenue for the hotel.
There are any number of website campaigns a hotel could do to encourage visitors to complete their booking on their mobile device. The example below is just one of many that has proven to be successful. As you can see in the image, the hotel is displaying an Inliner that is shown as native content on the screen, enhancing the user experience, a key factor when targeting mobile visitors. Inliners can be placed on the booking engine or homepage and displayed only to mobile visitors. These offers can also include a 1-click promocode to create a sense of urgency for the user. A 1-click promocode means that the offer is only applied to those visitors who click directly on the CTA (call-to-action), limiting the diffusion of the discount.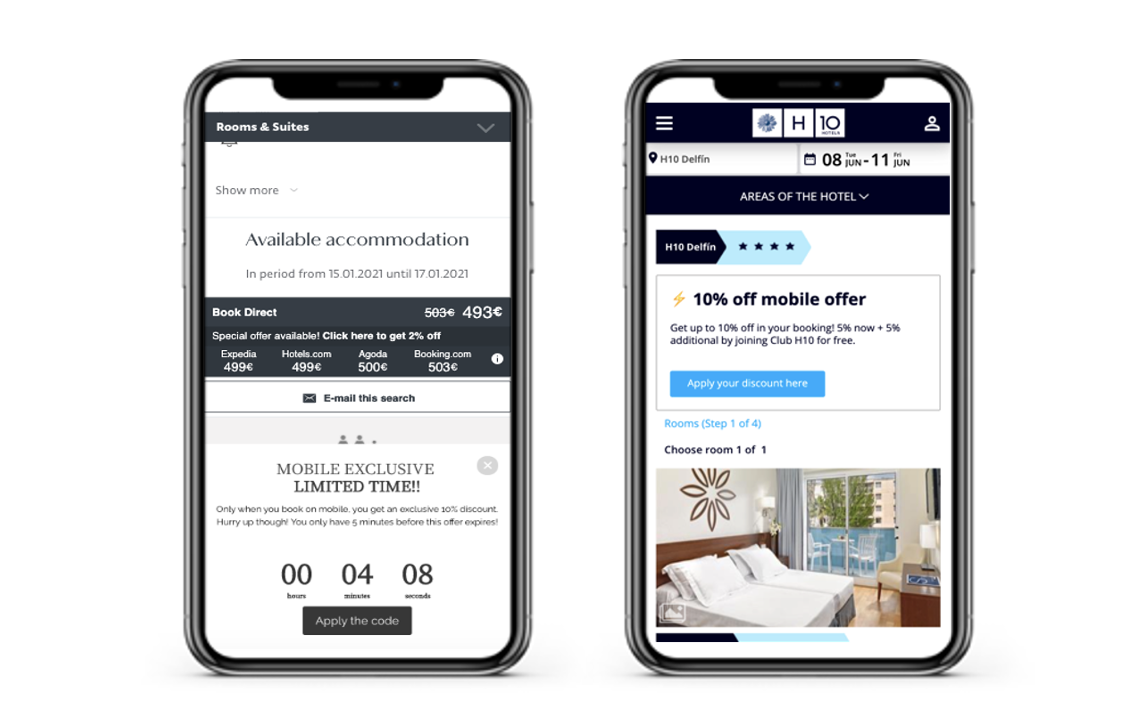 This example is just one of the many ways you can leverage the information available in BenchDirect to step up your direct channel strategy. To learn more about BenchDirect and how to hotels are use the available BenchDirect information to step up their direct channel performance, download this guide created by The Hotels Network.
Pssttt.. Did you know that BenchDirect is free, forever? Be sure to join the waiting list and become part of the global network of 10,000+ hotels who are already happily benchdirecting!
---
Author: Julia Pedrol, Creative Marketing Manager, The Hotels Network.
---