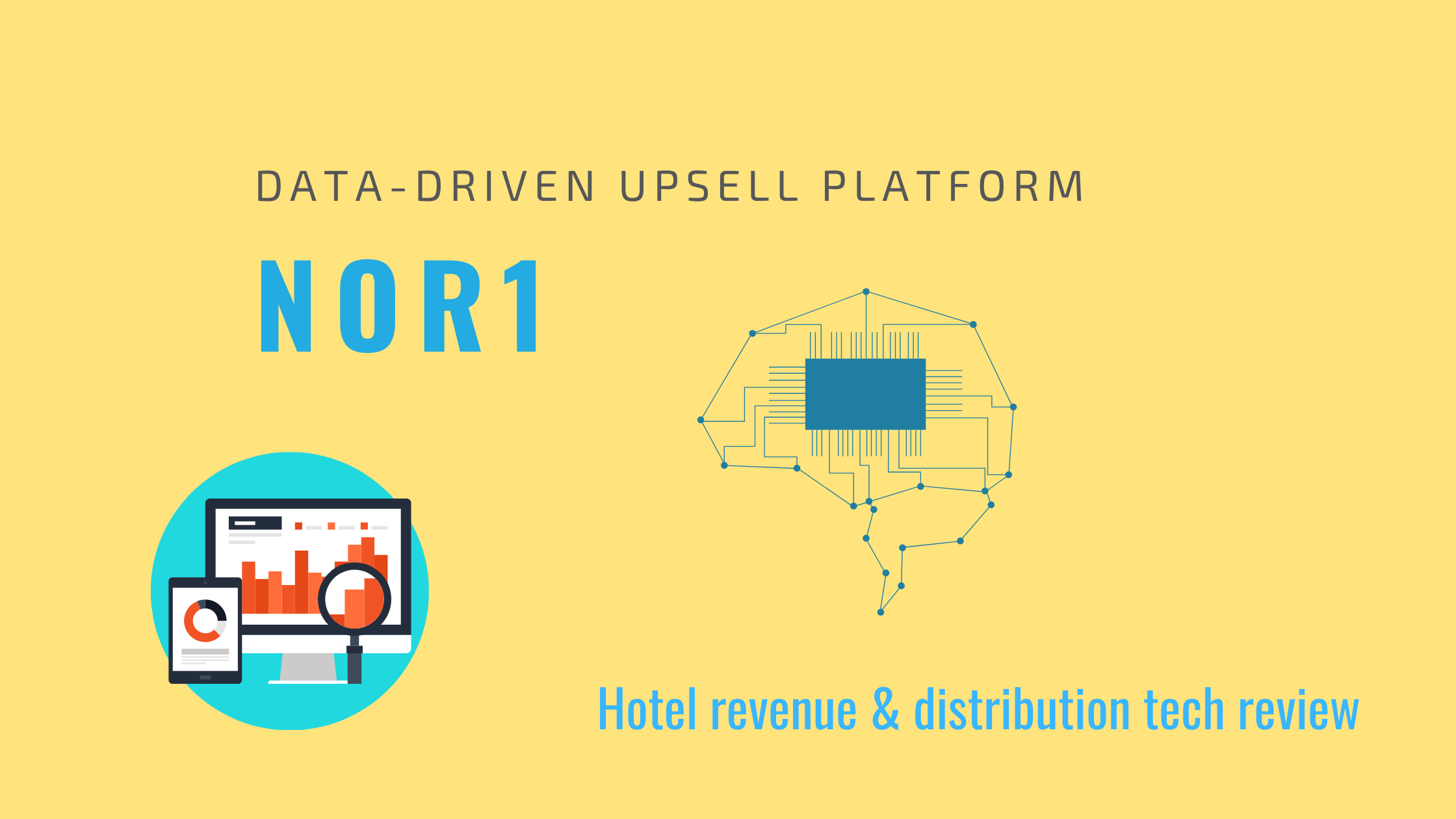 Generate incremental revenue and increase guest satisfaction with a data-driven upsell platform NOR1
Review of the upsell platform that leverages machine learning and artificial intelligence to create real-time, custom, and targeted offers for the hotel guests.
Why use it?
Room is the hotel's main product. It's natural to just focus on generating room revenue, but it's not sufficient. The hotel also has different room types and offers various services and experiences. It's essential to explore these incremental revenue opportunities.
Once the purchase is made (the room is booked), customers are more likely to buy additional services and upgrades. But different questions arise about the upsell process:
Does the hotel send the same e-mail with the exact offers to every guest?
Does the hotel send an e-mail after the purchase or one day before arrival?
Does the front desk offer an upgrade upon arrival?
How is the upsell price calculated?
What if the upgraded room type is no longer available?, etc.
The generation of incremental revenue is a complicated process. Likely there is an amazing tech solution that helps hotels merchandise their additional services and upgrades.
NOR1 leverages machine learning and artificial intelligence to create targeted offers (PRiME Decision Intelligence). The system will not offer the same room type, and the same upsell price to all guests. PRiME considers customer interaction throughout the reservation process and utilizes predictive modeling based on historical transactions before it offers product and price. It means that the right room and service are offered to the right customer at the right price point, making NOR1's approach to upsell unique and highly effective. PRiME decision intelligence can also predict guests' willingness to pay for upgrades over and above the amount they already paid for their confirmed reservations.
Automation of most upsell process steps that come with NOR1 is critical as it saves time and streamlines the process.
Customer satisfaction is also positively affected because NOR1 ensures guests receive highly targeted and personal offers. NOR1 helps generate additional revenue and keeps customers happy at the same time.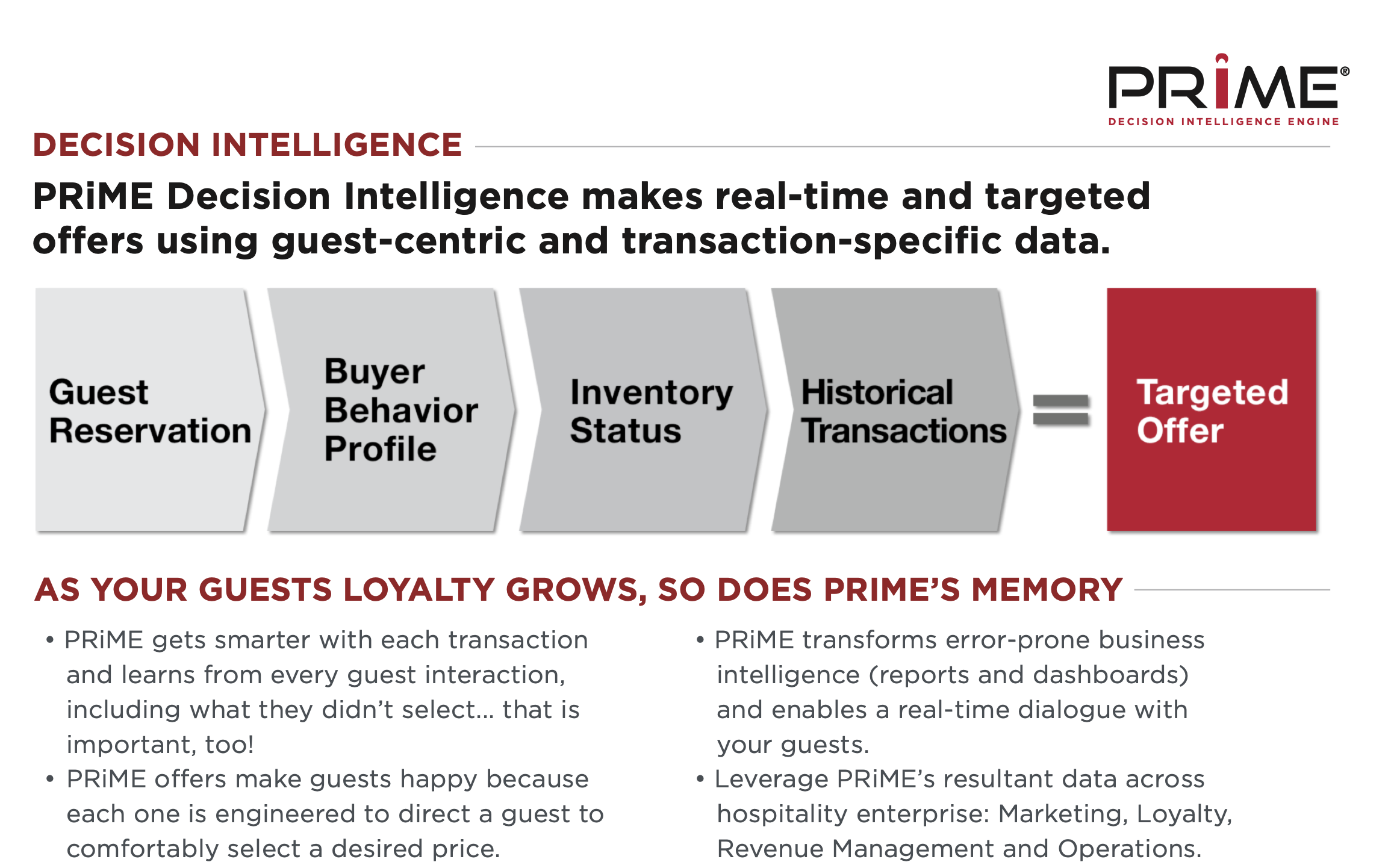 When information such as purchase history or travel preferences is utilized to create a dynamic customer experience, a deeper personal relationship develops between you and your guest. That's why PRiME considers hundreds of variables and interactions, including: Length of stay, a number of guests, arrival day of the week, guest history, historical upsell data, originally booked price.
How does it work, and what are the benefits?
The guest receives a targeted upgrade offer (1 to 5 days before arrival) that will be confirmed just before arrival. If the upgrade is available, the guest pays the agreed price difference for the new room. If the upgrade is not available, the guest receives the room initially booked. It's a win-win situation for the hotel and the guest. The hotel can effectively manage inventory in real-time, and the guest can stay in a better room for the agreed in advance additional price. And let's not forget that the room type and price offered to the guest are based on artificial intelligence, customized and targeted.

NOR1 allows guests to request additional paid services after the room is booked. It can be early check-in, club access, breakfast, view, specific room location, etc. The process is the same as for the eStandby upgrade - closer to the arrival date hotel will either confirm or reject the request.
Hotels use different booking engines, and not all of them have options to sell such attributes. A lot of booking engines build to sell rooms only. If this is the case, NOR1 solves the problem. It allows the hotel to sell additional services and customize offers automatically.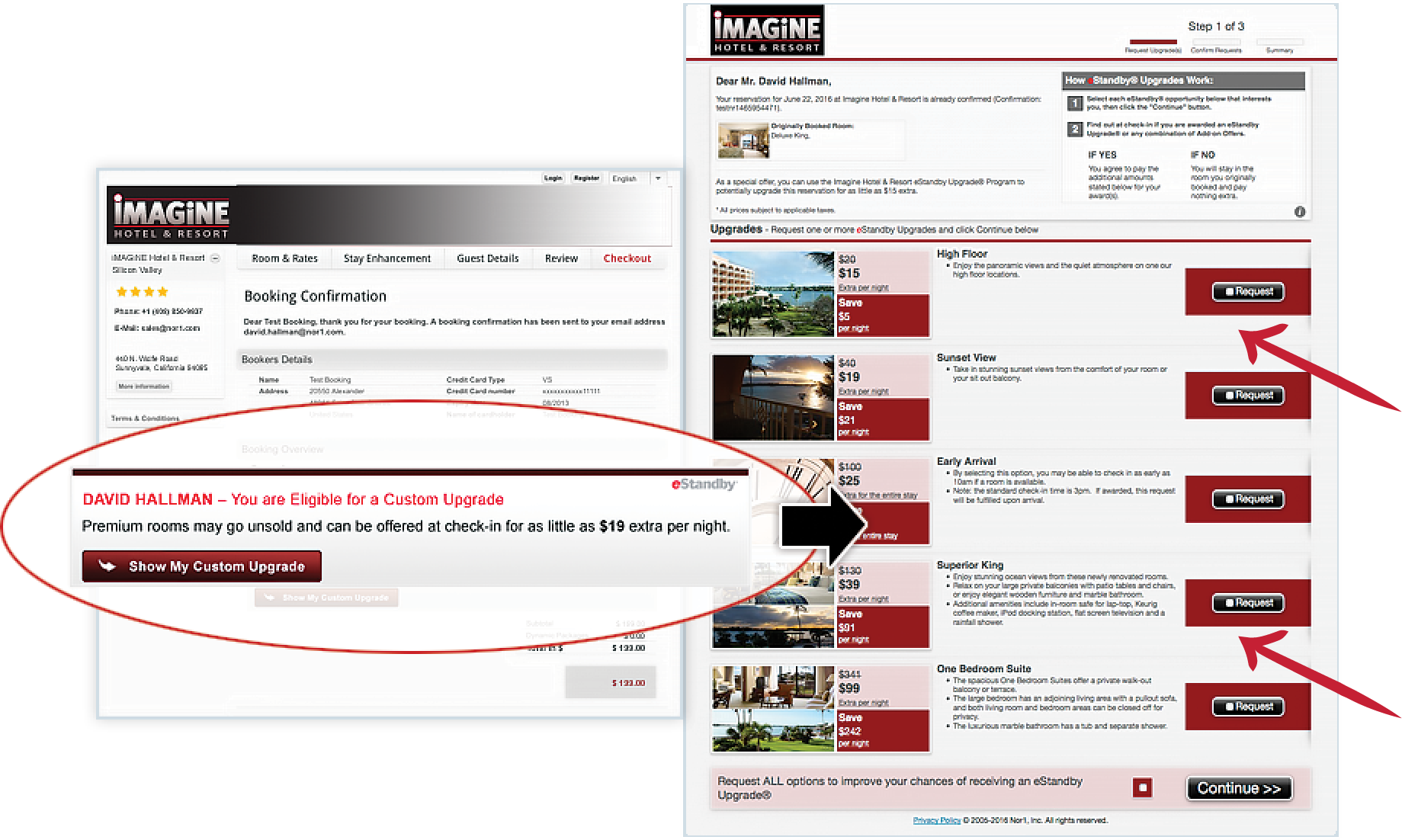 Note: eStandby Upgrade and eStandby Add-ons do not require integration with PMS. Requests are managed in NOR1's upsell manager, and decisions can be logged in PMS separately.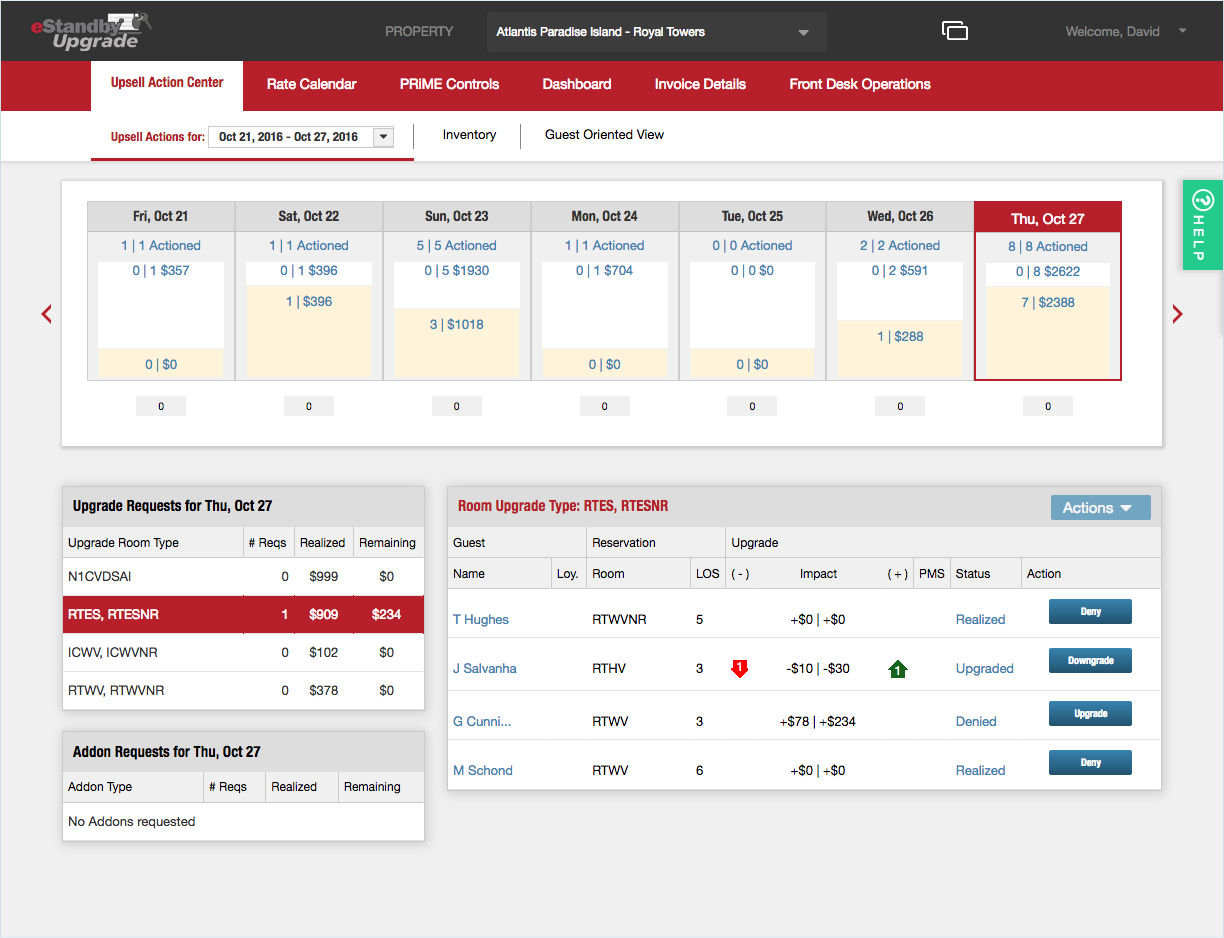 This is a confirmed upgrade that allows hotels to sell last-minute inventory. Hotels decide on a window for this type of upgrade (up to 72 hours before arrival). Guest receives the e-mail with a targeted offer. If the guest accepts the offered upgrade, it is confirmed right away. eXpress upgrade can also be applied to the guests who declined the eStandby upgrade.
For example, a guest booked a room 15 days before the arrival date. Five days before arrival, the guest received the eStandby upgrade offer and declined it. NOR1 will send an eXpress targeted upgrade offer 72 hours before arrival. Guest will receive either an eStandby or eXpress Upgrade e-mail, never both. Same intelligence and machine learning are utilized for both upgrade types.
eXpress upgrade is very useful and can reduce complimentary upgrades made to balance the room inventory, eliminate operational friction at check-in, and increase guest satisfaction.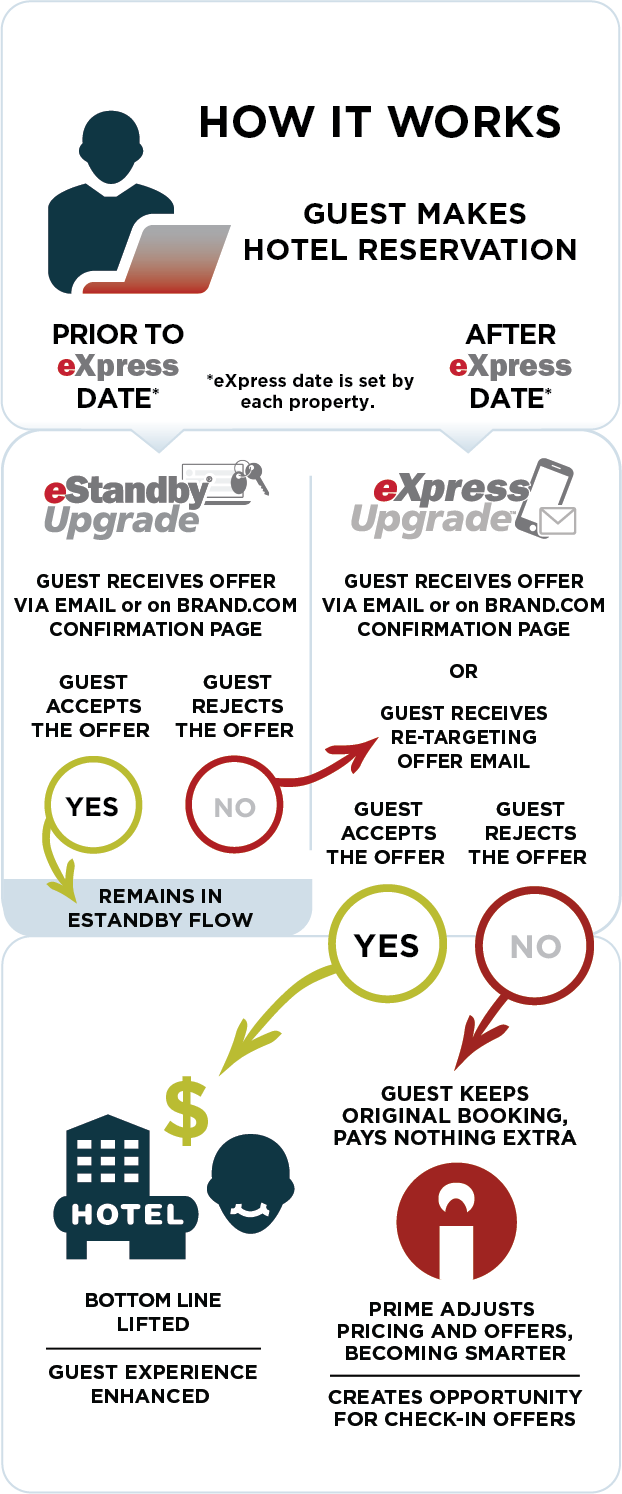 NOR1 takes all the fantastic features discussed above and puts them in an easy-to-use platform for the front desk staff to use upon guest's arrival. It means that the system will create custom and targeted upgrade offers and add-on offers for every arriving guest. All that front desk staff has to do is verbally communicate the proposal to the guest upon arrival. Then either accept the offer or decline it in the CheckIn Merchandising platform. Since it is connected to PMS, decisions will be automatically reflected there as well. Such a platform takes out the guesswork and helps the front desk agent quote the best price for the upgrade.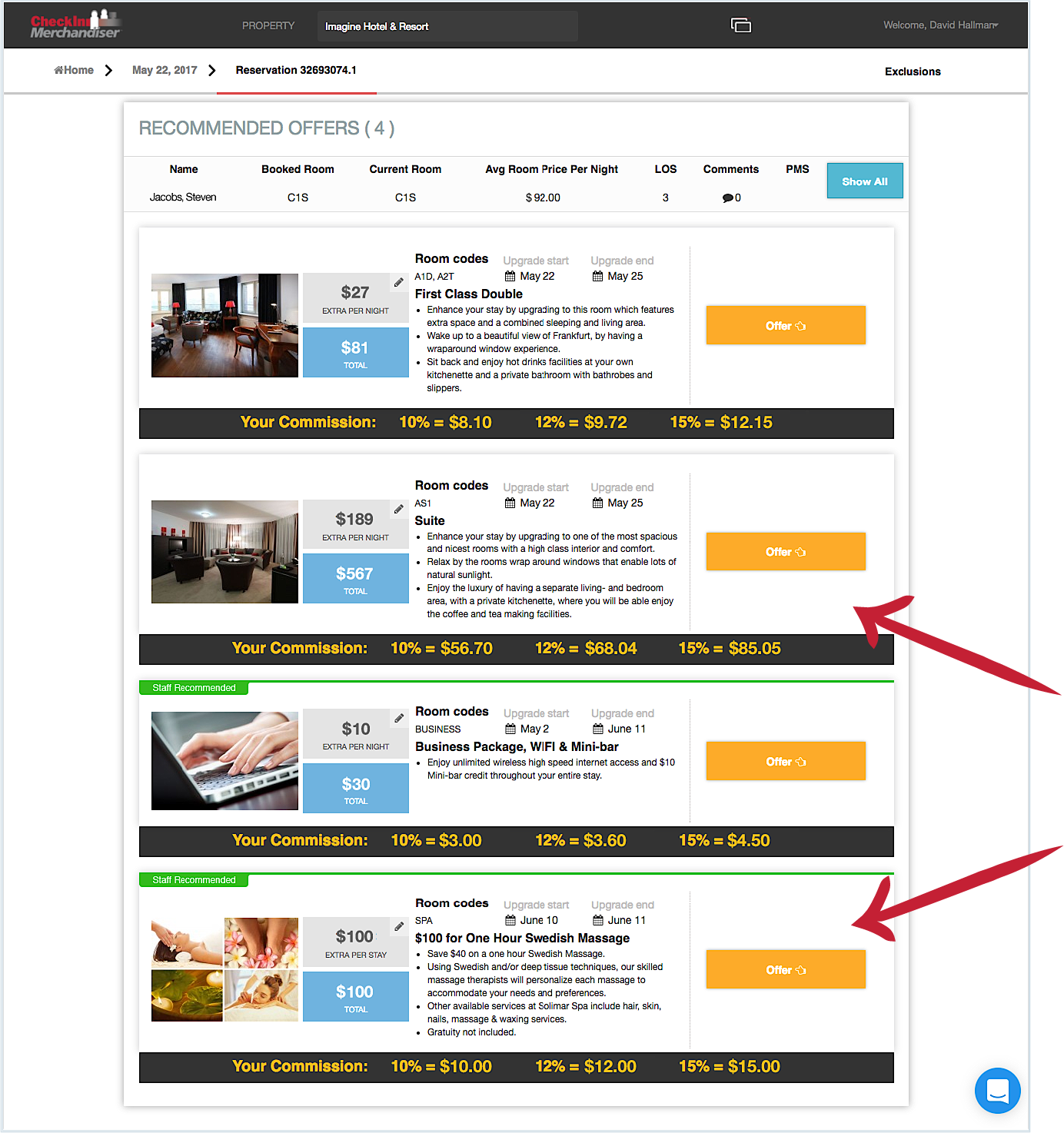 The platform also allows real-time individual performance tracking of all front desk agents, which can be used to motivate the staff to upsell rooms and services.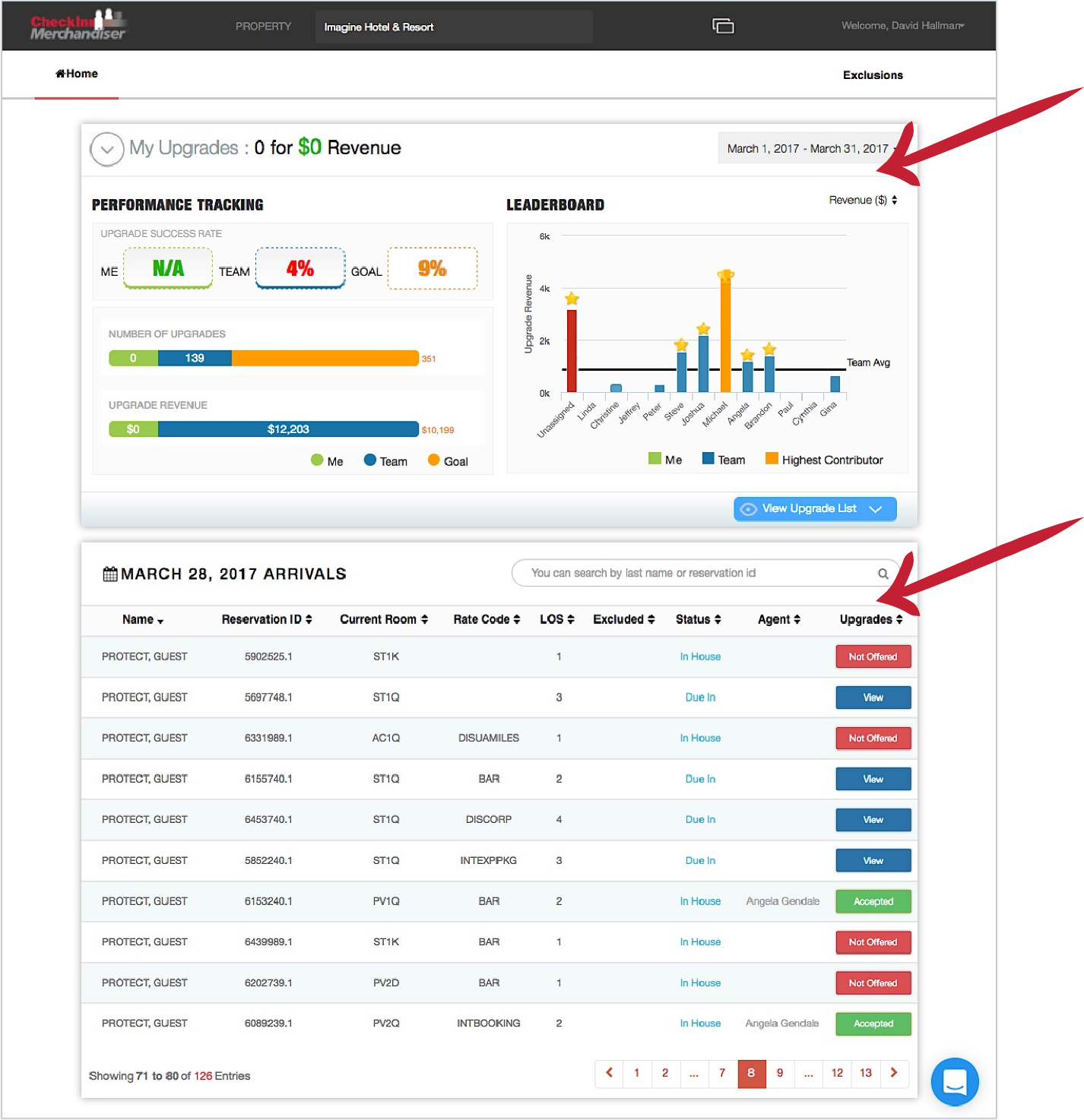 Note: eXpress upgrade and CheckIn Merchandising require integration with PMS.
eReach allows for upselling during the last three stages of the guest journey: on-property (ancillary offers), check-out (future stay offers), and post-check-out (future stay offers).
This solution is especially beneficial when targeting group guests and guests booked via OTAs. Most of the time, the hotel will only obtain e-mail upon check-in for these guests and won't have an opportunity to upsell before arrival.
While guests are on the property system could send them targeted offers - various discounts off dining at outlets, spa coupons, late check-out, etc. After guests depart, the system can send them offers for a future stay, including special room rates & ancillary services. Again, all offers are based on customer profile, behavior data and customized to meet the guest's specific needs and preferences.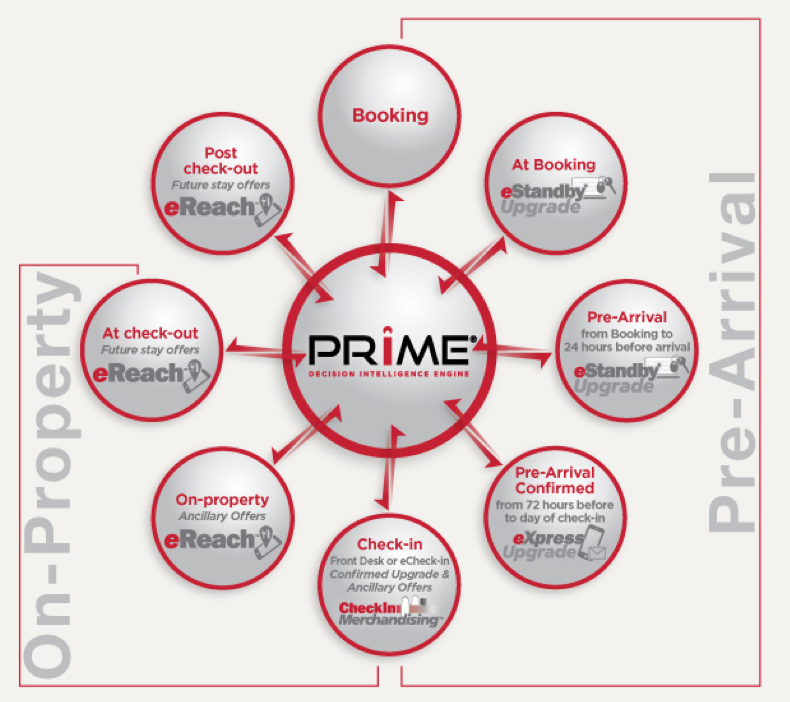 To conclude, NOR1 allows hotels to create targeted and highly effective upsell offers by utilizing artificial intelligence, automation, and personalization. The system provides tech solutions to communicate and upsell across all steps of the guest journey.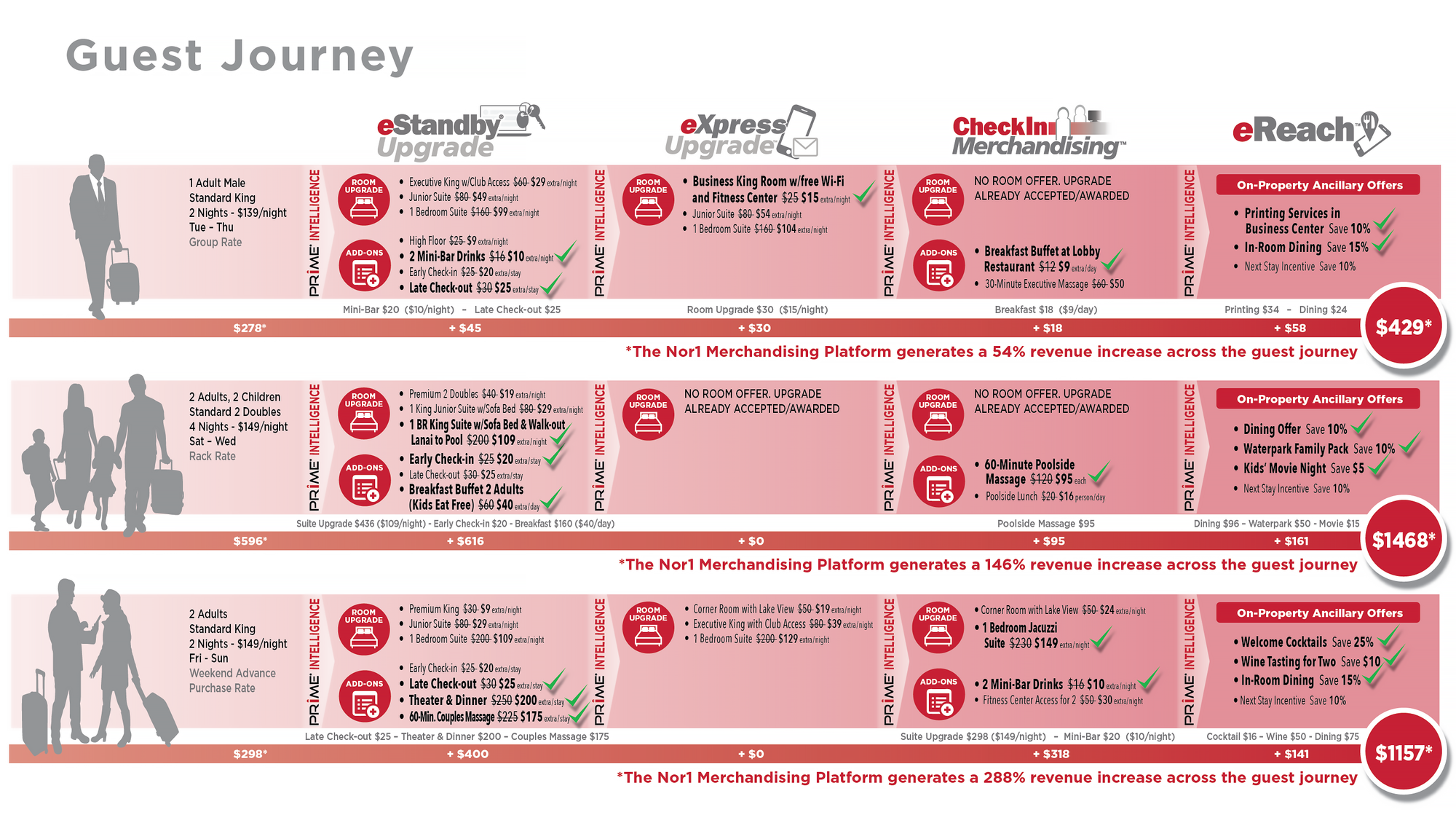 ---
Comments
Join the newsletter to receive the latest updates in your inbox.