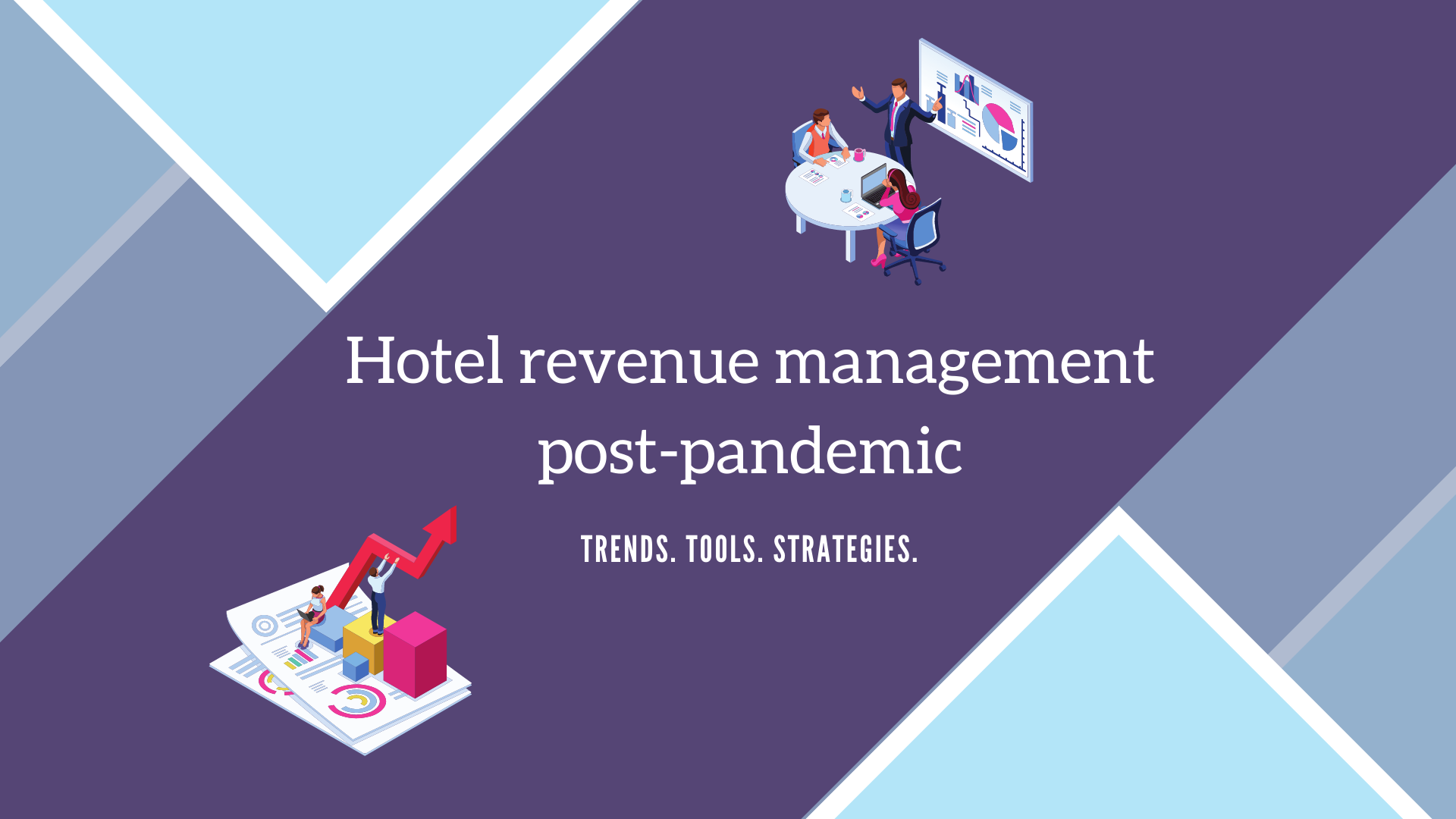 Hotel revenue management post-pandemic: New trends, tools, and strategies
This article examines how revenue management should evolve to continue generating value for the hotels in the post-pandemic world.
For a long time, revenue managers had all elements for success - reliable historical data, demand that could be forecasted with high level of accuracy, established market segments, proven pricing strategies, and accurate business intelligence. COVID19 pandemic changed everything, and revenue management requires innovation, new approaches, and new tools.
This article examines how revenue management should evolve to continue generating value for the hotels in the post-pandemic world.
Cost of distribution
When demand is low, the cost of distribution is even more critical. Revenue professionals should work on shifting share from OTAs to the brand.com. Driving traffic to the hotel's website is vital, but it's not enough. Conversion is the key.
New technologies can help segment website traffic and target visitors with custom offers while also persuading them to book directly (The Hotels Network, Triptease). An automatic room rate negotiation solution for the brand.com that allows customers to suggest the stay price and utilizes a demand-driven approach to pricing is a must for revenue managers (PrivateDeal).
My detailed reviews: The Hotels Network, PrivateDeal.
Forward-looking data
COVID19 changed everything, and revenue managers can no longer rely just on historical trends. Forward-looking data about the destination, market, and competitive set should become a new standard for making effective and timely decisions (Forward STAR, Travel Click's Demand 360 & Revenue Strategy 360, OTA Insight, Travel Insights with Google).
My detailed review: Forward STAR.
Revenue generation
The focus should be shifted from revenue management to revenue generation. Revenue managers should also look beyond just room revenue and expand revenue streams.
With attribute-based pricing, revenue managers will be able to sell every room attribute (floor, view, bed type, etc.) and additional experience (breakfast, late check-out, tour, etc.) separately. Moreover, attributes can be dynamically priced based on demand, increasing total revenue.
Upselling is vital, like never before, and some solutions help upsell rooms and sell additional services at different stages of the guest journey (Nor1, Oaky).
My detailed reviews: Nor1, Attribute-based pricing.
Revenue managers should create innovative revenue streams. Disruptions like the COVID19 pandemic require innovation. For many hotels, it's not a luxury but a question of survival. Hoteliers need to look at both spaces and staff expertise and find new ways of utilizing them. These are just some examples:
Hotel restaurants offer home and office delivery service
Housekeeping services for residential and commercial clients
Virtual cooking, cleaning, gardening, wellness, etc., classes
Private Chef and Bartender for a luxury dining experience at home
Laundry services for local residents and businesses
Repurpose some hotel spaces to create co-working offices
Day-use access to all hotel facilities & amenities for non-guests
Packages for students studying remotely
Transform several rooms to work lounges
Forecasting
COVID-19 pandemic made reservations data from 2019 obsolete. Hotels can not expect the same level of demand and the same booking patterns. Revenue managers should give more weight to the current short-term trends when creating forecasts. Forecasts should also be updated more often because of rapid demand fluctuations.
I will walk you through a forecasting method that gives more weight to the current short-term trends in this article.
Traveler intent data is of great value when creating forecasts. Revenue managers should combine this data with reservations on the books and short-term booking trends to develop more accurate forecasts. Traveler intent data for the market includes flight and hotel searches (Google, OTAs), searches on the hotel's website, traveler intent surveys, etc. More details in this article that I highly recommend.
Focus on value
Demand is low. Competition is high. Competing only on price would drive ADR for the hotel and the market down and take years to recover. Successful hotels compete on value, not price. Revenue managers should focus on creating packages that bundle hotel rooms with services and experiences. All experiences should be unique and come with a hotel stay.
I discuss in detail how to differentiate the hotel and stand out from the competition in this article.
Segmentation
The pandemic has disrupted the industry, and some market segments may no longer exist or produce the same volumes of business while new segments were born. Revenue managers should re-examine segmentation and take advantage of the new customer segments. Also, travel recovery will come in phases, and segments should be prioritized accordingly.
Domestic and local travelers will remain the primary segments to drive the demand for some time until international travel returns to pre-pandemic levels. "Work from home" segment presents an opportunity as more and more employees are working remotely. Hotels should capitalize on this new trend.
"Quarantine guests," "Nurses and Doctors," "Digital nomads," "Distance-learning students," "Drive market guests," "Local staycations," and so many more. Every market is unique, and revenue managers should look closely at ever-changing customer segments to find revenue opportunities.
It should become a standard for front desk staff to inquire about the purpose of stay and log the information for every guest. This information is crucial to understand the new segmentation landscape for the hotel.
CitizenM created a corporate subscription offer and is an excellent example of how hoteliers can benefit from targeting new segments. Details in this article.
Competitive Set
There is a need to re-examine traditional competitive sets. Pandemic disrupted the markets and urged hotels to adapt. Hotels had to create new offers, change segmentation and pricing strategies.
Large convention hotel shifted focus from groups to leisure package offerings? The luxury property started offering more affordable deals? Premium rooms sold at standard room type prices? Chances are your competitive set is no longer relevant, and new competition emerged. It's smart to create several competitive sets and closely monitor how properties in the market evolve their strategies.
KPIs
RevPAR focuses only on room revenue and does not take acquisition costs into account. Revenue managers should recognize the limitations of the RevPAR and look beyond this KPI.
NetRevPAR
Generating room revenue is not enough. The cost of distribution is a crucial factor. That's why revenue managers need to focus on distribution strategy and NetRevPAR (room revenue minus acquisition costs). When NetRevPAR becomes a primary KPI, it urges revenue leaders to re-evaluate distribution channels in terms of profitability. Important is not how much room revenue the hotel was able to generate, but how much room revenue it could keep after paying various fees.
TRevPAR
TRevPAR (total hotel revenue per available room) will ensure all revenue-generating outlets work together towards the same goal of maximizing the total revenue. Revenue managers should help develop every department's revenue management strategy (F&B, Spa, Parking, Meeting Spaces, etc.) and promote collaboration between departments to maximize total revenue. For example, packages that include room, F&B, and Spa services. The goal is to think beyond room revenue and focus on the total revenue.
Pricing models
It's hard for hotel guests to make travel plans when restrictions are different by country and even regions of the same country. The levels of restrictions also change all the time. What customers need is flexibility. What hotels need is cashflow and some level of certainty to forecast and keep the hotel afloat.
The subscription pricing model and selling vouchers for future stays are win-win solutions for hotels and customers. Hotels secure much-needed cash regularly, and guests receive flexibility as well as anticipation of future experience.
Recommended articles: Hotel Vouchers, Hotel Subscriptions.
Revenue team
It's no longer sufficient just to manage the demand. Revenue managers need to participate in demand generation. It requires a very close collaboration with IT, sales, marketing, distribution, and department heads of all hotel revenue-generating outlets. The ultimate goal and focus should be profitability. Only collaboration and goal-alignment will enable profit maximization. Revenue managers will evolve into commercial leaders of the hotel.
Revenue Management System (RMS)
RMS can process a lot of information, generate excellent reports, forecast demand, and suggest optimal room price. It's a must-have technology. The challenge is to select the RMS that will work successfully in current market conditions. Most systems rely on historical data to forecast demand and optimize pricing. What if that data no longer relevant?
RMS system must be agile. The ability to adapt to changing market conditions is critical. Algorithms must be able to incorporate forward-looking data, short-term trends, allow flexible segment changes, etc.
The level of automation should also be considered. There should always be a right balance between automation and manual control. A sound RMS system will allow revenue managers to customize automation based on the hotel's strategy.
This article details criteria hotels should consider when choosing the RMS system.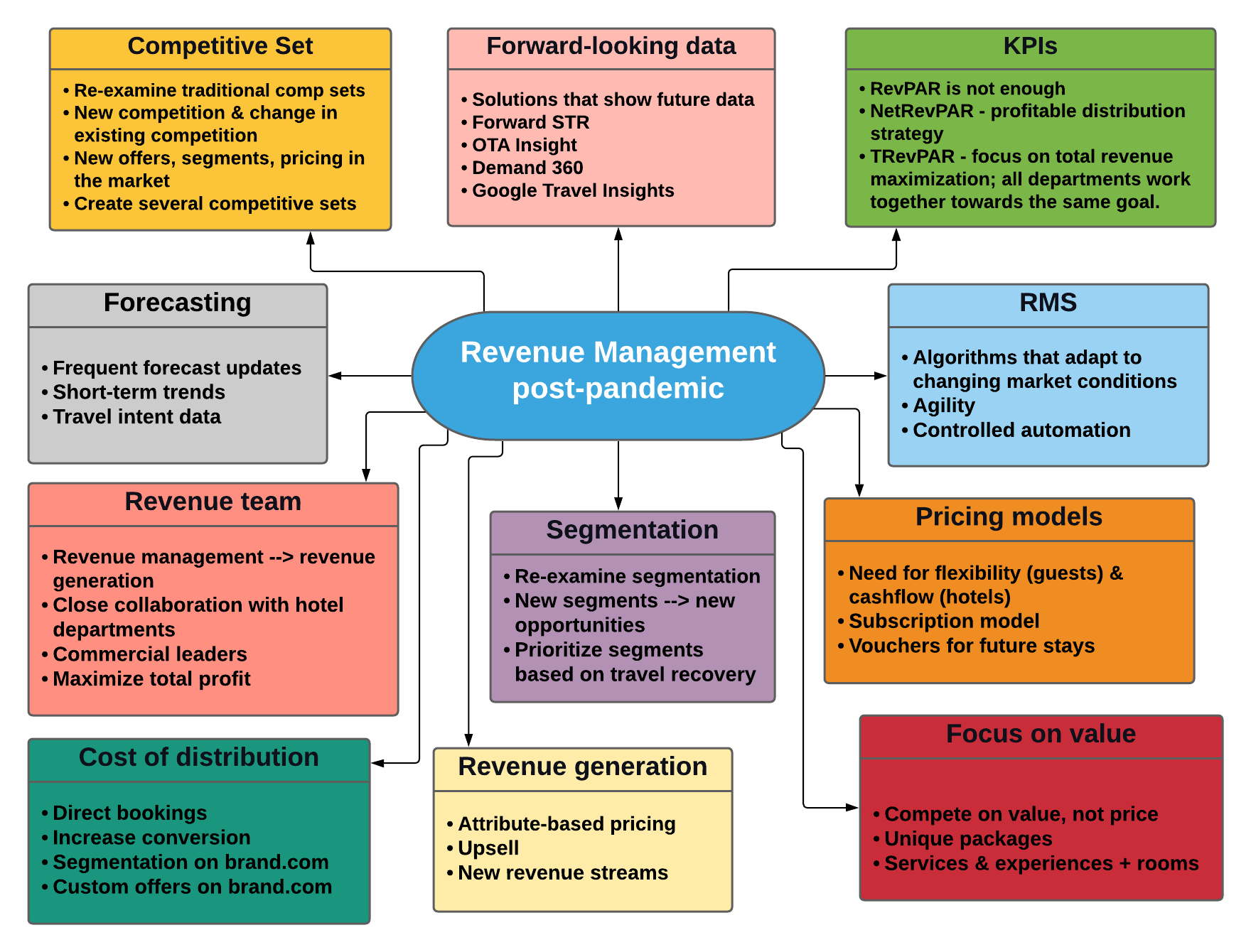 ---
Comments
Join the newsletter to receive the latest updates in your inbox.